From Bloomberg:
Student-loan delinquencies surged last year, hitting consecutive records of $166.3 billion in the third quarter and $166.4 billion in the fourth.
Bloomberg calculated the dollar amounts from the Federal Reserve Bank of New York's quarterly household-debt report, which includes only the total owed and the percentage delinquent at least 90 days or in default.
That percentage has remained around 11% since mid-2012, but the total increased to a record $1.46 trillion by December 2018, and unpaid student debt also rose to the highest ever.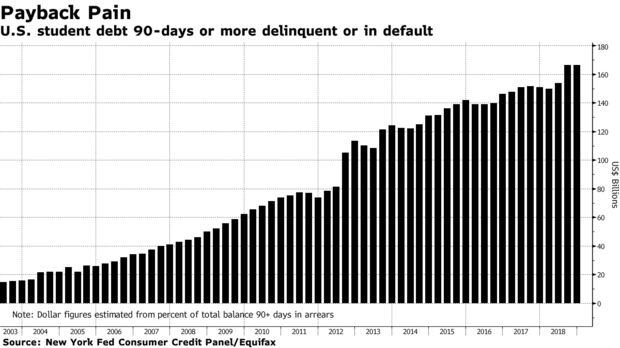 Delinquencies continued to climb even as the unemployment rate fell below 4%, suggesting the strong U.S. job market hasn't generated enough wage growth to help some people manage their outstanding obligations...
Continue reading at Bloomberg...