World's priciest precious metal set to blossom as shortage looms
From Bloomberg:
The world's most expensive precious metal is set to get even pricier as a mining retreat in South Africa threatens a supply shortage.
Rhodium – a byproduct of platinum mining that's used in the chemical sector and by the auto industry in catalytic converters – has more than trebled in value since the start of 2017. The silver-white element, named after the Greek word for rose, could go even higher as output is squeezed by the woes facing South Africa's platinum industry.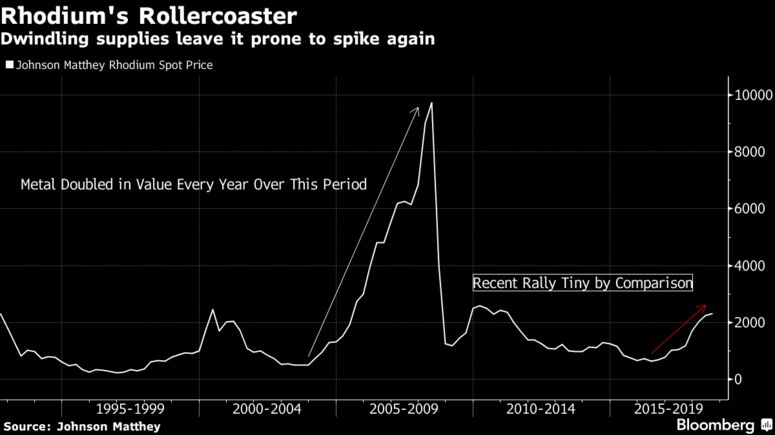 With no primary mines for rhodium, supply will be cut as Impala Platinum Holdings Ltd. and Lonmin shut unprofitable shafts to weather the lower platinum prices brought by the switch from diesel cars. Stable demand and dwindling supply in a rhodium market dominated by a small number of active players is a recipe for another price explosion, said Gerry Dawson, a consultant who has traded precious metals for two decades since working at refiner Heraeus Metals New York LLC.
As platinum miners curb production, rhodium output will drop, causing prices to rally further, Dawson said. That could rekindle visions of the market a decade ago, when rhodium topped $10,000 an ounce after five years of a supply deficit were compounded by South African power shortages that curbed mine output.
"There's a history of big moves here," Dawson said.
Rhodium, which can resist high temperatures and outperforms other platinum-group metals in removing nitrogen oxides from car exhausts, recently traded at a seven-year high of $2,350 an ounce. It could go to $3,000 an ounce in the near term, said Nikos Kavalis, a founding partner of consultancy Metals Focus.
Niche Market
"Rhodium is a very small market, once its fundamentals change, there's limited above ground stocks to meet demand," Kavalis said by phone. "The fact that the price once rocketed above $10,000 remains in the back of investors' minds."
Johnson Matthey Plc expects last year's small rhodium deficit to become a surplus of 68,000 ounces in 2018. Beyond this year, the outlook for the metal looks fairly strong with auto-industry demand particularly supportive, the refiner said.