Uranium is soaring
From Bloomberg:
Uranium surged the most in more than three weeks as Kazakhstan said it will reduce production by 10% this year after prices slumped in 2016 amid a global inventory glut.
Spot uranium rose $2.25, or 10%, to close at $24.25 a pound on Tuesday, the highest level since September, according to data from Ux Consulting Co. Prices have gained 19% this year. The announcement from Kazakhstan, the world's biggest producer, may mark an inflection point for the market, according to Cantor Fitzgerald LP. The cuts could lead to higher prices, according to Ux, a provider of research on the nuclear industry.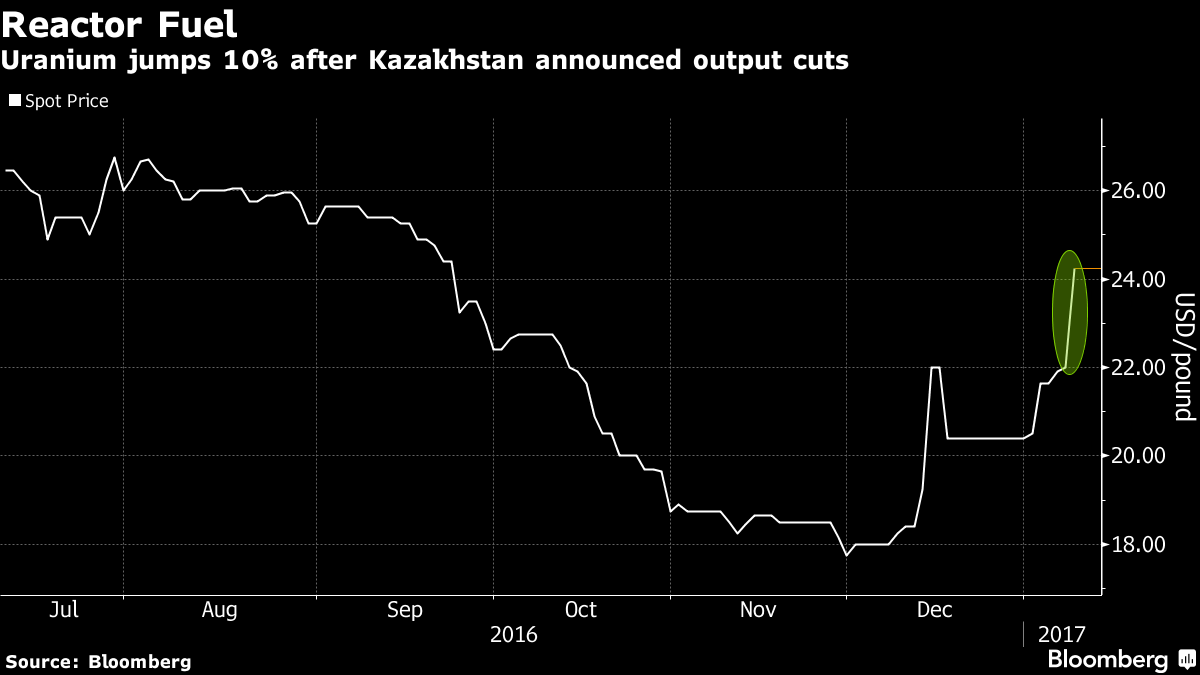 Uranium slid 41% in 2016 after dropping to a 12-year low in November amid an oversupply of the fuel, including enough inventory held by Japan's utilities to power the nations reactors for at least six years. Kazakhstan will cut output by more than 2,000 tons, state-owned Kazatomprom said Tuesday. The Central Asian country accounted for 39% of
global production
in 2015, according to the World Nuclear Association.
"We had given up on expecting Kazakhstan to exercise production restraint as its mines were the lowest cost operators in the world," Rob Chang, head of metals and mining at Cantor Fitzgerald in Toronto, said in a note. "This news is a definite surprise and may be the inflection point for the uranium space to head higher across the board."
Spot uranium averaged about $26 a pound last year, according to data from Ux. Prices are forecast to average about $23 in 2017, according to the median forecast of analyst estimates compiled by Bloomberg in December.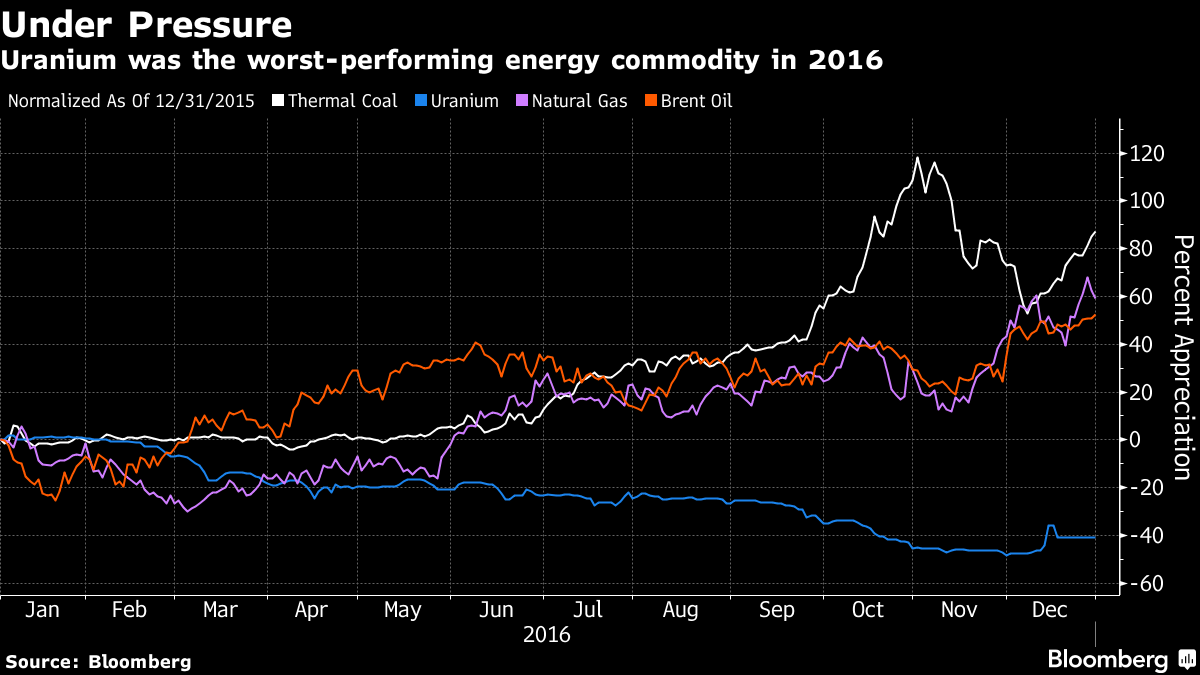 While the outlook for nuclear energy growth is strong, the near-term uranium market remains in oversupply, Kazatomprom Chairman Askar Zhumagaliyev said. More than 60 reactors were under construction in 15 countries as of April, according to the World Nuclear Association. China is one of the
most ambitious
, with plans to boost its nuclear power capacity more than 70% by 2020.
Kazatomprom's output cut is equivalent to about 3% of global production in 2015, the company said, citing Ux data.
Crux note: Most people have no idea where to even start when it comes to investing in high risk/high reward bets like uranium. But there's actually a proven "mathematical sweet spot" for ensuring the highest gains with the least amount of risk.
If you'd like to unlock these secrets without taking a college finance course, be sure to catch a completely FREE live event from three of the most well-respected gurus in finance – Porter Stansberry, Dr. Steve Sjuggerud, and Dr. David Eifrig. It's this Thursday, January 12 at 8 p.m. Eastern time. Learn more and RSVP 100% free right here.