The U.S. auto market is slumping worse than expected
From Bloomberg:
U.S. automakers posted steeper sales declines than analysts estimated in July, reinforcing doubts that industry demand will be able to keep up with record levels seen the last two years.
Deliveries plunged 15% at General Motors Co. and 10% for Fiat Chrysler Automobiles NV, both bigger decreases than projected. Automakers are poised to struggle living up to strong second-half results a year ago as both regular consumers and rental companies have been cutting back on car purchases.
"We have anticipated that this year will be off and it is, and next year will be off from this year," Michelle Krebs, an analyst at car-shopping website Autotrader, said by phone. "Things aren't falling apart, but they are definitely falling from the peak."
After seven years of U.S. auto sales growth, this year's persistent slump — and anxiety over upheavals from electrification, autonomy and mobility services — has investors shunning automakers as benchmark stock indexes graze record highs. Tempered spending on vehicles and car parts has been a drag on economic growth in five of the last eight quarters, according to the Commerce Department.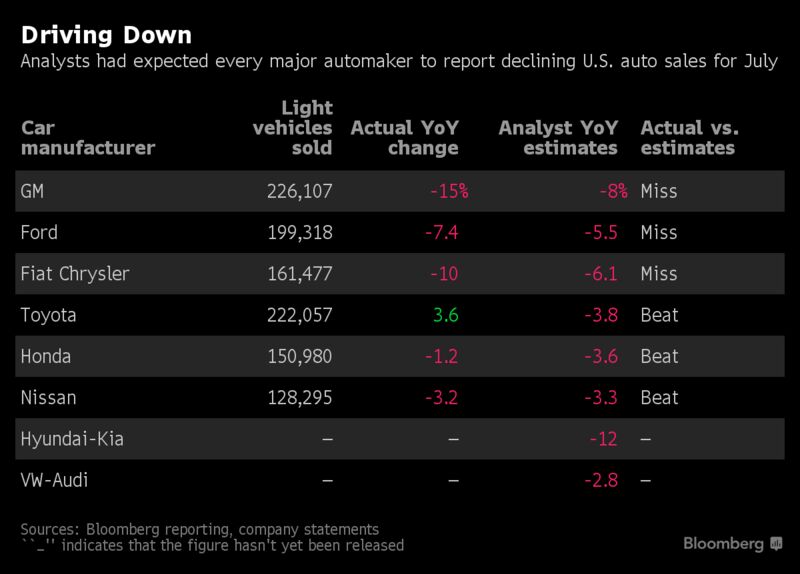 Toyota Motor Corp. is the lone major automaker so far to post a surprise sales gain, with deliveries increasing 3.6% last month, driven by demand for the RAV4 crossover.
Nissan Motor Co. and Honda Motor Co. beat analyst estimates, though deliveries for both were still down for the month. The new Q60 coupe paced an increase for Nissan's Infiniti luxury brand, while Honda's HR-V crossover sales climbed by almost a third from a year ago.
Ford Motor Co.'s deliveries excluding heavy trucks declined 7.4%, as passenger-car sales dropped 19%. GM, which has been trying to wean itself off lower-margin shipments to rental companies, said those deliveries plunged 81% in July from a year earlier.
Shares of most major automakers have trailed benchmark U.S. stock indexes this year. The exceptions have been Fiat Chrysler, which is poised to benefit from the shift in consumer tastes away from cars toward pickups and sport utility vehicles, and Tesla Inc., which has soared in anticipation of the more affordable Model 3 sedan.
GM shares dropped as much 3.7% as of 10:35 a.m. Tuesday, while Ford fell as much as 3.1%.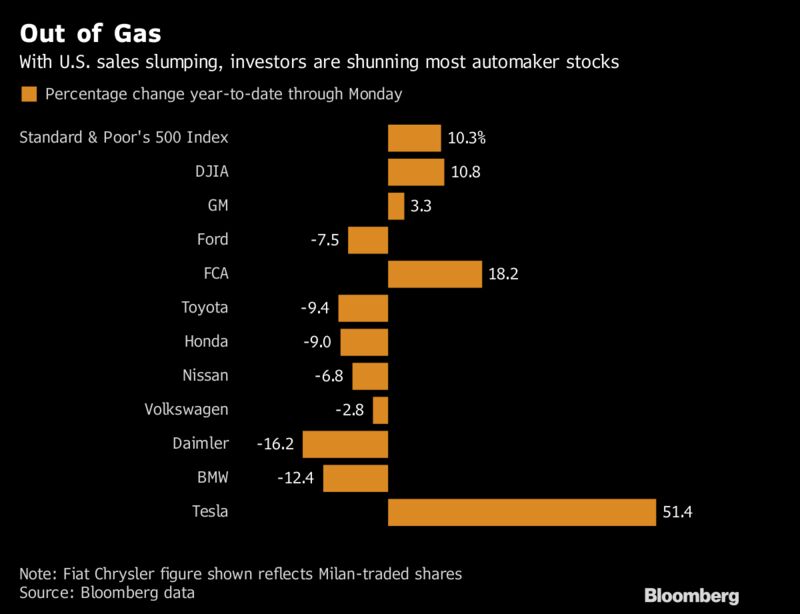 The annualized pace of total light-vehicle sales likely slowed to 17 million in July, according to the Bloomberg News survey of analysts. The projected rate, which is adjusted for seasonal trends, would be down from 17.9 million a year earlier, though it would also be the fastest rate since February.
GM projected an industry selling rate of 16.9 million for last month. The company said its vehicle inventory is at 104 days' supply, well above a year-end target of about 70 days.
With vehicle inventories bloated, profit-eroding discounts may need to rise further in the second half of the year to keep the sector chugging along even at a reduced speed. Instead of paring incentives after the July 4 holiday weekend like usual, automakers left them high throughout the month and still didn't have great sales to show for it, said Thomas King, a vice president with market researcher J.D. Power.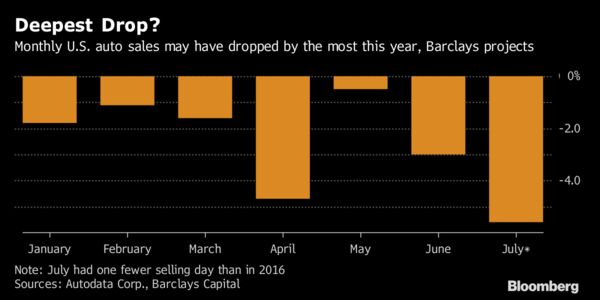 The average vehicle incentive jumped $279 in July from a year earlier to $3,876, while the average retail transaction price crept up only $42 to $30,772, J.D. Power estimated, based on data from the month's first 18 selling days. That means automakers are discounting more to move metal and aren't wholly making up for it by selling more lucrative models.
Compared to this time last year, "we're starting off at higher incentive levels, we've got even more elevated inventory levels and even worse inventory-quality problems" heading into the end of the model year, he said.
Crux note: Porter Stansberry and his team have been warning of a debt bubble in the auto industry since last October. You can catch up with their research right here.