Bubble watch: U.S. auto debt surges past $1 trillion
Crux note: Earlier this week, it was reported that retail sales exceeded analyst expectations. This was viewed as a positive for the economy – and a potential justification for the Fed to raise interest rates in September.
Most news stories cited soaring auto sales as the biggest reason for the "beat." But what you probably didn't read is that auto debt just passed $1 trillion in the United States – and the total is rising at its fastest rate in a decade. As we've covered, now "asset-backed" securities full of risky, long-term 'subprime' auto loans are on the rise, too (sound familiar?). 
This is a situation every American should be aware of. Below, we share Bloomberg's recent report on the situation…
From Bloomberg:
Booming car sales fueled by low-borrowing costs and a supportive bond market have pushed U.S. auto debt to $1.01 trillion, according to data released Thursday by the Federal Reserve Bank of New York.
Borrowers took out $101 billion in car loans over the past year, outstripping the pace of growth for other kinds of consumer debt, the data show. By comparison, student loans grew $72 billion while mortgages increased $20 billion. On a quarterly basis, auto-loan growth is the highest in a decade, the Fed said.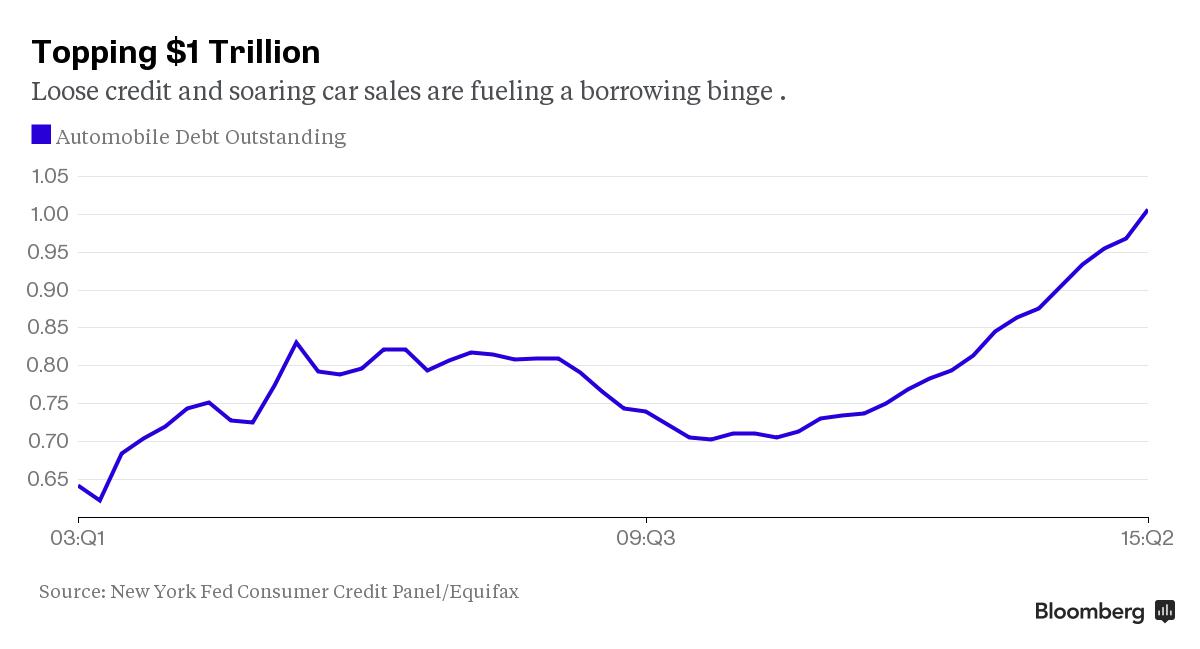 The acceleration comes amid looser credit standards, seen in a car loan rejection rate as low as 3.3 percent, the least since the New York Fed began collecting that data.
The bond market is financing the loans, as investors scoop up more securities that are tied to bundles of packaged auto loans. Among the deals that package loans to borrowers most likely to miss payments, defaults have climbed. Net losses on such bonds rose 1.45 percentage points over the past year to reach 6.6 percent last month, according to Nomura analysts.
A total of about $73 billion in auto loan-backed bonds have been sold this year, according to Bank of America Corp. which expects full-year bond sales from car finance firms to reach $125 billion, compared with $101 billion in 2014.
U.S. auto sales may top 17 million this year for the first time since 2001, according to Kelley Blue Book.