Two simple ways to turn "good" investments into life-changing ones
By Bryan Beach in The S&A Digest: 
To start today's Digest, indulge me in a story about a family, one I'm close to…
Many years ago, the family's grandmother passed on to each of her three grandkids a family heirloom…
She had been a typist for ExxonMobil (XOM) in the '50s, back when it was still called "Esso." She had received ESSO shares as part of a program that allowed employees to deduct a portion of their paychecks and buy shares at discounted prices.
In 1996, each grandchild received 20 of her (now) Exxon shares. At the time, these gifts were worth about $1,600 each.
And their grandmother did something else. She asked the kids to write a specific letter to the Exxon corporate office. We'll get to that letter in a moment…
As I said, I've known this family for years and watched the way each grandchild handled his or her heirloom. The choices they made are the same ones individual investors make all the time. And they reveal exactly how the average investor can succeed in the markets, but why most fail…
In today's Digest, I want to share two secrets that are critical to growing your wealth safely through the stock market. These secrets are simple to understand. You may even think they seem obvious, and yet…
Few individuals have the discipline to follow them. It's why most individuals lose money in the stock market. So what happened to the Exxon shares?
One of the grandsons sold his shares and bought a bike. Let's just leave him out of this. Suffice it to say, the value of the bike has not appreciated…
The granddaughter, Lori, held onto her shares. After a couple of rounds of stock splits, she owns 80 shares today, worth more than $8,000.
Over the past 18 years, she has received nearly $2,000 of dividends. That's an annualized return of around 10%, over a period when the S&P 500 returned around 7% annually. Not bad. Beating the S&P by three percentage points a year over almost 20 years is a great performance.
But while Lori understood the value of her grandmother's gift, she made one big mistake. She ignored her grandmother's request to write to Exxon. The oversight cost her thousands of dollars.
The youngest grandson – Bill – was the only one who took his grandmother's advice. Not only did he hold onto his shares, he pecked out the letter his grandmother described on a typewriter and mailed it up to Exxon's old headquarters in New Jersey.
The letter enrolled Bill in a special program that juiced the returns he made on his grandmother's stock. Today, having done nothing except hold his XOM position, Bill owns 123 shares of ExxonMobil (43 more than Lori). The position is worth a total of $12,500. For the price of a stamp, Bill's gift is now worth around $2,500 more than his sister's.
Bill's letter enrolled him in Exxon's dividend reinvestment ("DRIP") program. The concept of a DRIP is simple. Instead of receiving your regular dividend check in the mail, you ask the company to pay you in stock. Each time the company pays a dividend, you're credited with extra shares of equal value.
Pretty much every dividend-paying company now offers a DRIP. These services can boost your returns by hundreds of percent, if you just allow the power of compounding to take hold.
To see the difference… just look at how Lori and Bill's investments performed…
How Bill 'Juiced' His XOM Investment

 

Lori

Lori

Bill

Date*

Investment Value**

Return

Investment Value

Return

Share Balance

Share Balance

"DRIP
Advantage"

1996

2002

2008

2014

* Balances and share count approximated as of June of each year.
** Includes received dividends.
To be fair, I've simplified some of the circumstances of Bill and Lori's investments to make the comparison easier… but the principle holds. You can see immediately why we write about dividends so much and why we focus on them in our research on "capital efficient" stocks. Companies that generate huge amounts of cash without having to funnel that capital back into the business usually have lots of built-up funds to pay regular, healthy dividends.
Those payments drive a relentlessly growing, long-term investment… And reinvesting them can turn a solid investment (like Lori's) into an outstanding one (like Bill's).
ExxonMobil is one of my favorite examples. Although it spends a lot to maintain its reserves and infrastructure, ExxonMobil generates far more cash than it needs to cover those demands. As a result, it rewards shareholders with steady, reliable dividend income.
I wrote about reinvesting Exxon's dividends in the February 7 issue of our free e-letter DailyWealth. As I explained at the time…
Oil prices fell as low as $20 per barrel and reached highs of $140 per barrel. The company fell short of Wall Street's quarterly expectations a few times… it exceeded expectations a few times. One of the company's ship captains got drunk and rammed his boat into Alaska (resulting in an enormous oil spill).
But in the end, nothing really stopped the ExxonMobil juggernaut. Not oil prices. Not one of the worst environmental accidents of the century. And not quarterly earnings announcements.
That is the power of buying fantastic companies and committing to holding them as long as possible. No matter what happens, you're bound to succeed in the long term.
To take advantage of this first secret – reinvesting dividends – you don't even have to write to the company anymore. Most online brokerages allow you to reinvest dividends automatically. You just have to select that option in your account settings.
Unfortunately, most people don't enjoy the benefits of reinvested dividends, even when they buy the right kinds of stocks. And that's because they don't understand the second secret, which we'll discuss today. It's something we've called "The Power of Doing Nothing."
Look back at the table above. Bill's "DRIP Plan Advantage" took a long time to get going. In fact, after six years, Bill's DRIP-fueled investment was only $117 bigger than Lori's. But Bill's advantage accelerates – or "compounds" – as time goes by.
It makes sense when you think about it. In this example, Bill and Lori will both receive another $0.69 per share in dividends this August. Lori will get $55 in cash ($0.69 times 80 shares)… but Bill will get $85 worth of shares (approximately one new share). So Bill will end up with $30 of additional value and one additional share.
This trend will continue. Every time ExxonMobil makes a quarterly dividend payment, Bill's advantage widens. More shares mean more dividends, which mean even more shares, etc. By 2026 – 30 years after receiving his grandmother's gift – Bill will almost certainly have twice as many shares as his sister.
Every year, millions of investors forego huge returns because they don't understand the power of reinvesting dividends… or the power of waiting.
Billionaire investor Warren Buffett summarized our second secret – the Power of Doing Nothing – with his famous mantra: "Lethargy bordering on sloth remains the cornerstone of our investment style."
As an investor, one of the smartest things you can do is… nothing.
Take a look at another of our favorite capital-efficient businesses, soft-drink titan Coca-Cola (KO). As you can see in the chart below… June 1998 to March 2003, KO shares lost half their value. Conventional investing wisdom would say that – assuming you had a crystal ball – long-term KO bulls should sell in June 1998 and buy back in March 2003 when the stock bottomed out… Let's test this thesis.
Imagine two Coke investors, Crystal and Sally, both buy 20 shares of the stock on January 1, 1990 – a $1,500 investment. Both reinvest dividends for the duration of their holding periods.
Crystal has a crystal ball, which tells her to sell in June 1998, near the market's peak. By that time, she has accumulated 180 shares (three stock splits and 20 shares accumulated through her DRIP). Crystal walks away with more than $15,000.
Five years later, Crystal's ball springs to life and informs her Coke is at a market low. Time to get back in. Crystal raises $7,300 and buys back those 180 shares she sold in 1998. She timed the market perfectly. She sold high and re-bought low.
In total, Crystal made two separate KO investments totaling $8,800 ($1,500 in 1990 and $7,300 at the stock's bottom). By June 30, 2014, Crystal's two investments (totaling $8,800) have turned into $36,000. She's up 309%. She's a genius.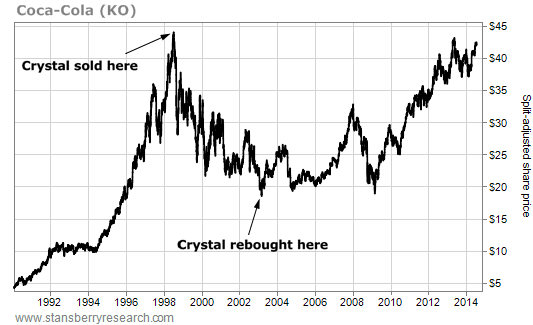 Sally is not a genius. Nor is she clairvoyant. In fact, she oozes sloth-like laziness. She made her one $1,500 investment and didn't open her brokerage statements after that. It's not even clear she remembered she owned the stock when it was tanking in 1998-2003. She didn't do squat.
Fast forward to June 30, 2014. Sally's one investment (the original $1,500) is worth $22,000. She's up 1,333% doing nothing. (And for the record, had Sally set up a 25% stop… she never would have stopped out thanks to the dividends received.)
But it gets better. As of June 30, Crystal has 489 KO shares, and Sally has 523 shares. So when KO cuts its next dividend check, Sally is going to get dividends on 34 extra shares. And just like Bill's Exxon investment, Sally's "free share" advantage will snowball exponentially with each new ex-dividend date.
Now, at this point, you may be crying foul, "Why wouldn't Crystal reinvest all $15,000 she took out of her first investment?" And that's fair.
But remember, that means Crystal would have to sit on that 15 grand for six years. Not reinvest in other opportunities… Not blow it in Vegas… Not buy that beach house… or a cool new bike.
(And of course, if you have a fully functioning crystal ball, this whole essay is moot. Take it to Vegas.)
The key is what the "free share" effect does to like-sized positions…
Sally enjoyed five years of free shares that Crystal missed out on. And since KO's price was depressed while Crystal was out… Sally actually got more bang for her free-share buck when those shares began rising again.
Crystal missed out on dividends worth approximately 12 additional free shares while she was out of the stock. From the time she bought back in (March 2003) through June 30, 2014, what was a 12-share advantage for Sally compounded into a 34-share advantage. Again, this advantage will widen with every dividend KO pays.
When a stock falls, a capital-efficient investor's reaction should be "great! More free shares!" If you think a high-yielding stock you love long-term may fall in the short term, the last thing you should do is sell and buy back later.
There is plenty of money to be made by speculating in the market… but, for your long-term investments, it's best to forget everything you thought you knew about market timing, trading tricks, etc.
This is why our second secret is so important. Not only did Crystal pick a great stock and reinvest the Idividends… but she also bought and sold at the exact right time. Despite doing all the right things and having a magical stock-picking ball at her disposal… "lethargy bordering on sloth" beat her returns. It is almost never a good idea to interrupt the compounding power of reinvested dividends.