CHART: More volatility ahead…
From Jeff Clark, Editor, Stansberry Short Report:
The stock market likely has several weeks of choppy action ahead of it.
It has been four years since investors last endured a market correction of 10% or more. The last time it happened was between July and October 2011, when the S&P 500 fell 17%.
Even at the lows last Tuesday, the most recent decline only pushed the S&P 500 about 12% below its 2,130 high. That's a relatively mild correction. But again, it's the largest we've seen in four years.
The rally off of the lows has been sudden and dramatic – which is normally what happens when conditions get so oversold. This is the same sort of action we saw during the correction in 2011. And based on what we saw in 2011, there's more volatility ahead…
Take a look at what the S&P 500 did in 2011…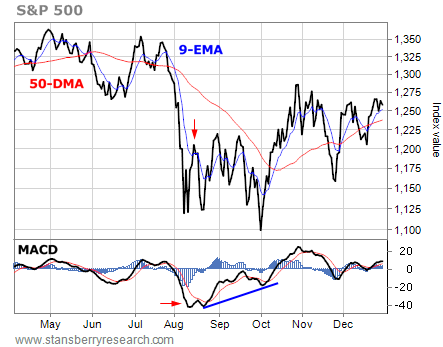 There are a few things to take note of on this chart. First, the low in early August 2011 was about 75 points (or 6.1%) below its nine-day exponential moving average (EMA). And it was almost 175 points (or 13.5%) below its 50-day moving average (DMA).
The moving average convergence divergence (MACD) momentum indicator was also at its lowest level of the year and there was no sign of positive divergence (the MACD making higher lows while the S&P 500 is making lower lows). We didn't get any positive divergence until the market came back down and dropped to a lower low in October.
The action between August and October was a choppy mess. The S&P 500 consolidated within a wide 100-point trading range for two months before rallying into the end of the year.
Now, take a look at how the S&P 500 chart looks today…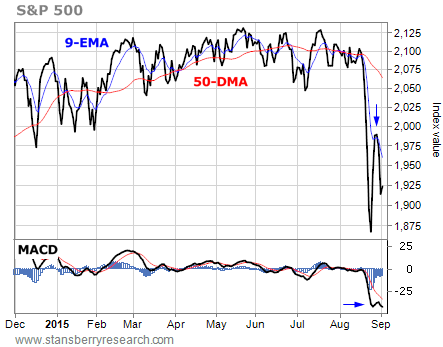 At the lows last Tuesday, the S&P 500 was 125 points (or about 6.2%) below its nine-day EMA. It was 225 points (or roughly 11%) below its 50-DMA. Those are extreme oversold conditions. But they're on par with what we saw back in 2011.
Also notice how the MACD indicator dropped to the same extreme -40 oversold level that it did in 2011. And there was no sign of positive divergence at last Tuesday's low.
Finally, note that the first bounce off the bottom pushed the S&P 500 back up to the nine-day EMA, where it hit resistance and turned lower. Now, go look at the 2011 chart. Back then, the first bounce off the low rallied the S&P 500 up to its nine-day EMA. That's where it met with resistance and stocks turned back down.
If the similarities to 2011 continue, then stocks are likely to chop around in a wide trading range for the next few weeks before we get the final retest of last week's low – which so many people seem to be looking for.
Traders need to stay nimble here. Be quick to take profits. And expect volatility to stay high.
Best regards and good trading,
Jeff Clark