Top trader: This metal is vulnerable to a sudden decline
From Jeff Clark, Editor, Stansberry Research Pro Trader:
It's time to take profits on copper.
Two weeks ago copper was "the best risk-versus-reward trade in the market."
Today… that condition has flipped.
Buying copper right now comes with a lot of risk and not much reward. Let me explain…
Take a look at this updated chart…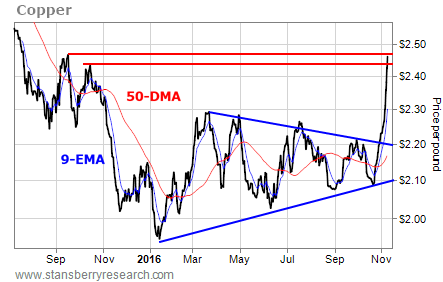 If you took my advice and bought copper at $2.09 per pound – when it was testing the support line of this consolidating triangle pattern – then you're sitting on a huge gain right now.
The price of copper quickly surpassed my first upside target of $2.22. It closed yesterday at $2.46 per pound. That's a gain of 18% in a little more than two weeks.
Now, though, copper is overbought and extended to the upside. It's vulnerable to a sudden decline.
Copper is bumping into a resistance line going all the way back to September 2015. The price is far extended above both the nine-day exponential moving average (EMA) and the 50-day moving average (DMA). This is a dangerous condition.
The price of copper rarely strays more than 5% away from its 50-DMA before coming back toward the line. As of yesterday's closing price, copper is 12% above its 50-DMA.
One of two things is likely to happen here… Either copper chops back and forth for a while and gives the moving averages a chance to rally up toward the current price of the metal… or copper pulls back and tests the moving-average lines as support.
Or… maybe we get some combination of those two possibilities.
No matter which of those situation occurs, now is NOT a good time to buy copper. That trade is done. It's time to take profits on copper. Let the metal work off its overbought condition and move on to another trade that offers a better risk-versus-reward setup.
Best regards and good trading,
Jeff Clark