Top trader: More downside ahead for oil and oil stocks
From Jeff Clark, Editor, Stansberry Short Report:
It's time to take profits on oil.
Two weeks ago, I told you oil was setting up for a bounce. It was a simple, contrarian trade. The price of oil had fallen 28% in just six months. Lots of analysts were expecting oil to fall even further. So many folks were talking bearish about oil that it seemed as though sentiment was hitting a pessimistic extreme.
But oil stocks had bounced. And oil stocks tend to move ahead of the commodity. The chart of the United States Oil Fund (USO) – which tracks the price action of benchmark West Texas Intermediate (WTI) crude oil – also showed a bullish falling wedge pattern. Most of the time, this type of pattern breaks to the upside and generates a quick, short-term rally.
We were looking for oil to bounce back up to the $45 to $46 price range. And that's exactly what we got.
Take a look at this chart of benchmark WTI crude oil…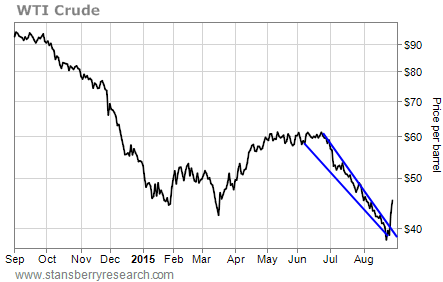 Oil closed Friday at $46.31 per barrel. That's about 11% higher than when I wrote about oil two weeks ago. And it's 18% higher than last week's low of around $38.
Shares of USO are up more than 7% in the past two weeks.
That's a terrific short-term gain. And traders should take profits here.
You see, the first rally attempt out of a bullish falling wedge pattern can be violent, and it can provide fast gains. But it almost always fails. It usually comes back down and retests the breakout area. For oil, that means the price is likely to come back down toward the $40 per barrel price range.
If oil can hold the new support level at $40, then we could see the start of a new uptrend. Traders can use that move to get back into a long-side oil trade.
For now, though, the best way to trade oil is to take the quick gain. Move to the sidelines. And wait for another opportunity.
Best regards and good trading,
Jeff Clark