Top trader: Get ready for an oversold bounce in stocks
From Jeff Clark, Editor, Stansberry Pro Trader:
The stock market has broken down.
We're approaching a point when we can once again put our money to work. But we have to be careful.
Let me explain…
First, let's start with an updated look at the chart of the S&P 500…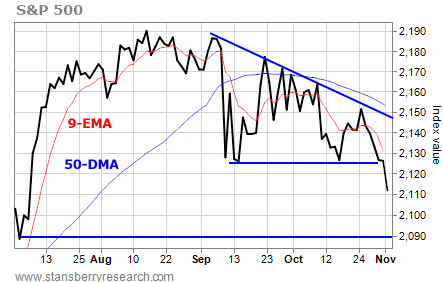 On Tuesday, the S&P 500 lost the support of the 2,125 level. The index appears headed toward the 2,090 downside target we talked about last month. And that's a good thing.
You see, it's exactly this sort of action at this time of the year that creates the strong year-end rally that has happened in each of the past nine years.
At this point, traders should be looking to buy stocks as the market reaches extremely oversold levels. And based on the look of the McClellan Oscillators for both the New York Stock Exchange ("NYMO") and the Nasdaq ("NAMO"), we should get to that point soon.
The McClellan Oscillators are momentum-based indicators that help determine overbought and oversold conditions. Readings of more than 60 indicate severely overbought conditions and often precede large declines in the markets. Readings of less than -60 express extremely oversold conditions and usually lead to strong bounces in stock prices.
Take a look at these charts of the NYMO and NAMO…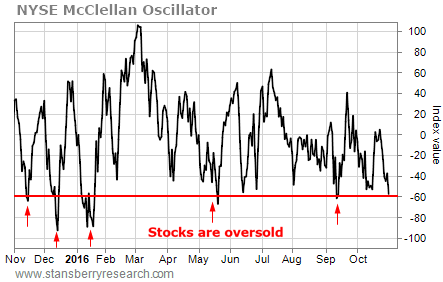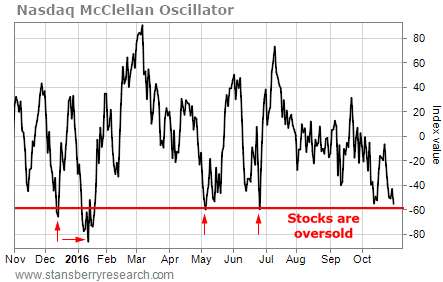 On Tuesday, the NYMO closed at -57, while the NAMO closed at -55. Both oscillators appear to be headed into extremely oversold territory at the same time. That has only happened three other times over the past year.
Here's how the S&P 500 performed after each of those times…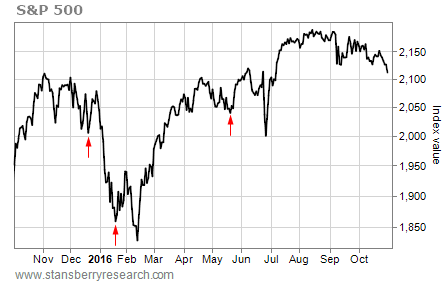 The S&P 500 rallied almost 4% in two weeks off extremely oversold conditions last December. It rallied 4% in two weeks in January. And it rallied 4% in a little longer than two weeks in June.
Those are bounces worth trading. So it's almost time to start buying.
But here's the interesting thing…
Look at the chart and notice what happened to stocks once each oversold bounce ran out of steam. In each case, the S&P 500 sold off hard to an even lower low than the previous one.
So like I said, it's almost time to start buying in anticipation of an oversold bounce. Just don't stay in the trade too long.
Best regards and good trading,
Jeff Clark