This website will show you the world's best dividend stocks in five minutes
From Dr. David Eifrig, MD, MBA, Editor, Retirement Millionaire:
Stock prices may go up or down…
But if you invest in a special type of dividend stock, the income streams only go in one direction: Up… Better yet, they go up year after year, no matter where prices are headed or what crisis the news is talking up this week.
So… How do you find these special dividend stocks?
Luckily, all it takes is the simple click of a mouse. Below, I'll show you a simple dividend-investing shortcut that will help you find the world's greatest dividend stocks in less than five minutes.
Let's get started…
Financial services and research giant Standard and Poor's (S&P) maintains an index of companies that have not only paid consistent dividends, but have increased their dividend payment each year for the past 25 years. They are called the "Dividend Aristocrats."
And for investors who reinvest dividends, this effect of growing dividends is even stronger. You are taking dividends to buy more shares of a company that is constantly paying bigger dividends… with which you can then buy even more shares.
As a result, the index outperforms the market handily…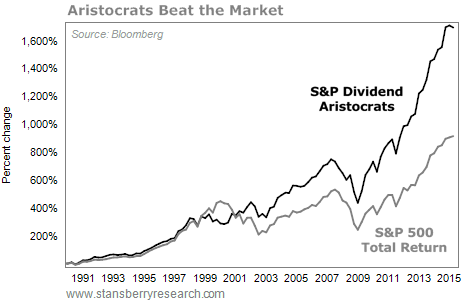 Each of the 52 Dividend Aristocrats are large and well-established members of the S&P 500, with an average market cap of $64 billion. The index includes many names you may know from your daily life, like meat maker Hormel Foods (HRL), spice maker McCormick (MKC) or tool maker Stanley Black & Decker (SWK).
You can gain quick exposure to all of the Dividend Aristocrats by purchasing the ProShares S&P 500 Dividend Aristocrats Fund (NOBL). The fund has low turnover, a relatively low expense ratio of 0.35%, and currently yields 1.6%.
If you're looking for individual stock ideas, the list of Dividend Aristocrats is a great place to start. While S&P itself won't give you the full list (they want you to pay for it), the ProShares fund has to disclose all of its holdings. So you can find the current Dividend Aristocrats by clicking here.
S&P also tracks a more aggressive index called the "High Yield Dividend Aristocrats." This list tracks stocks that have raised their dividends for at least 20 years, and it expands its pool to include smaller companies that are in the S&P 1500.
That means the average market cap drops to $38 billion, with some as small as $2.1 billion. With smaller stocks in play, this group is riskier than the traditional Dividend Aristocrats, but it pays a higher yield at 2%. You can use the SPDR S&P Dividend Fund (SDY) to invest in these stocks with a 0.35% expense ratio.
As my regular readers know, collecting dividends is a central feature of our investment philosophy… Understanding how they work and how to evaluate them is the first step to becoming a successful investor.
If you're looking for a one-stop shop when it comes to dividend investing, the funds I mention above are a great place to start. And simply taking a look at their holdings is the ultimate "cheat sheet" for discovering the best dividend stocks in the world.
Here's to our health, wealth, and a great retirement,
Dr. David Eifrig
P.S. Many Americans will likely need to rely on safe dividends if they want to live a comfortable retirement. That's because politicians are already gunning for Social Security cuts in the upcoming 2016 election. Most Americans don't realize this, but there are proven ways to boost Social Security payments. And these options remain available – for now. To learn more about Social Security boosting strategies, BEFORE Congress threatens to shut them down, go here.