This major market could be kicking off a bull market right now
From Jeff Clark, editor, S&A Short Report: 
Chinese stocks are breaking out… But you won't see it mentioned in the mainstream press.
The Shanghai Stock Exchange Composite Index (the "SSEC") – China's version of the Dow Jones Industrial Average – rallied last Thursday… and broke a five-year consolidating-triangle pattern to the upside. This suggests Chinese stocks are about to rally.
And early investors could make double-digit gains over the next few months…
Take a look at this long-term chart of the SSEC…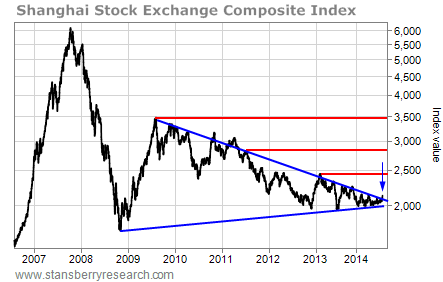 The SSEC has been stuck in a bear market for the past six years. It's down more than 60% from its peak in 2007. But on Thursday, the index broke out of a five-year consolidating-triangle pattern.
This is such a long, drawn-out pattern that you can barely see the breakout on the eight-year chart. But there's no mistaking it on the one-year chart…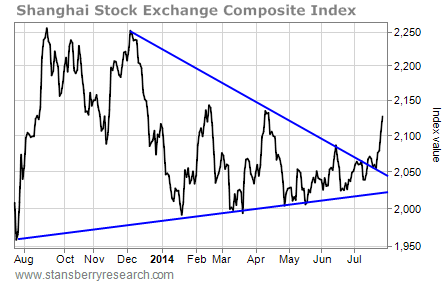 This is a BIG DEAL. This is when new bull markets begin. And as I told you in May, the last time the SSEC emerged from a pattern like this, it rallied 500% in a year and a half.
I'm not looking for those types of gains this time around. But at the very least, the SSEC should be able to hit some of the overhead resistance lines on the long-term chart.
The first target is at about 2,500. If the SSEC can rally above that first resistance level, the next upside targets are 2,900 and 3,500. Based on current levels, investors could see gains of anywhere between 38% and 67% in the next few months.
It has been a long time since traders have had a chance to make money buying Chinese stocks. But we have a good opportunity right now. Last week's breakout from the consolidating-triangle pattern signals a major change in trend. And early investors could make double-digit profits in the next few months.
Now is the time to buy Chinese stocks.