This chart shows why you should own gold stocks today
From Jeff Clark, editor, S&A Short Report:
The best time to own gold stocks is when they are outperforming gold.
From the beginning of the gold bull market in 2001 until the end of 2003, the price of gold rallied from $250 an ounce to $375 an ounce – a 50% gain. Gold stocks, however, far outperformed the metal. The major gold-stock index – the AMEX Gold Bugs Index (the "HUI") – rallied 400% during that same time frame.
But the pendulum swings both ways. Gold stocks have solidly underperformed the action in gold over the past two years. Gold topped near $1,900 an ounce in 2011. It ended 2013 at about $1,200. That's a 37% loss. The HUI lost 70% of its value during that same time frame.
So the question today is… What's in store for 2014? Will gold stocks outperform or underperform the metal?
So far, they're outperforming.
As of Tuesday's closing price, gold is up 2.1% in 2014. The HUI is up 6.3%.
Of course, it's foolish to structure an investment thesis on the basis of a little over a month of action. So let's back up and take a longer-term view of gold versus gold stocks. Here's a 17-year chart comparing the action in gold stocks versus gold…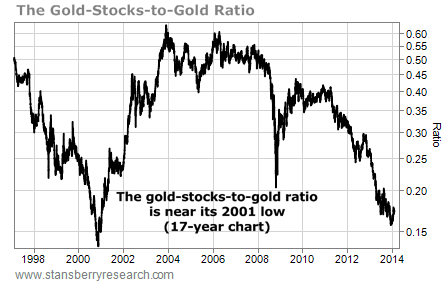 When this chart is rising, gold stocks are outperforming the metal. When the chart is falling, gold stocks are underperforming.
As you can see, following the last two years of severe underperformance, gold stocks are nearly as cheap – relative to gold – as they were at the start of the gold bull market in 2001.
What do you think is most likely to happen from this point? Are gold stocks going to continue to underperform the metal and drop to an even lower valuation? Or is it more likely gold stocks will enter a period of outperformance?
I'm betting on outperformance.
Over the past 17 years, the average ratio on this chart has been about 0.35. The ratio is currently 0.17. Even if the price of gold goes nowhere this year, the HUI could double just to get this ratio back up to its average level. That's how oversold gold stocks are. And if the price of gold rallies this year, the HUI could soar even more.
I'm confident 2014 will be a year of big gains for gold stocks.
Crux note: Jeff doesn't consider himself a "gold expert"… but thanks to a simple gold trading technique he developed, he was able to build a personal fortune and retire early at just 42 years old. He's been contacted by twelve different banks, on and off Wall Street, and literally thousands of investors, all begging him to share this secret. But he's never told any outsiders exactly how it works… until now. If you're interested in making a fortune in gold, too, you have to see this. Click here for all the details.
More on gold stocks:
Classic Doug Casey: What you need to know to make a fortune in gold stocks
These investors will become "a whole new class of millionaires"
A fact about gold stocks most investors will NEVER learn