Another major warning sign for oil prices
From Justin Brill, Editor, Stansberry Digest:
Last Friday, Bloomberg published a report on the state of the U.S. shale oil industry…
In short, it noted the industry has quietly rebuilt itself from just one year ago. From the report…
When the who's who of the oil industry met a year ago in Houston, Saudi Arabia's energy minister had harsh words for U.S. shale drillers struggling with the worst price crash in a generation. "Lower costs, borrow cash or liquidate," said Ali Naimi, who managed the world's largest oil-exporting business for more than two decades.
In the year since, the drillers have largely taken Naimi's advice. While more than 100 have gone bankrupt since the start of 2015, the companies that survived have reshaped themselves into fitter, leaner and faster versions that can thrive with oil at $50 a barrel…
And as shale returns with a vengeance, it's not just the pioneer cowboys that dominated the first phase of the revolution in the Bakken of North Dakota. This time, Exxon Mobil Corp. and other major oil groups are joining the rush. It's a new reality that OPEC and Russia – the main forces behind the production cuts approved last year as a solution to re-balance the global market – are starting to acknowledge. "With $55 a barrel, we see everyone very happy in the U.S.," said Didier Casimiro, a senior executive at Moscow-based Rosneft PJSC.
This should sound familiar to regular Digest readers… We continue to expect U.S. shale oil production to surprise to the upside… and prices to surprise to the downside.
Of course, regular readers know our colleague Ben Morris agrees…
Ben has been highlighting the "froth" in the oil markets for months, and warned his subscribers back in January that much lower prices were likely.
Oil prices have held up since Ben originally issued his warning. But as he explained to his DailyWealth Trader subscribers this morning, the bearish case for crude is even stronger today than it was back then. From the issue…
Regular DWT readers are familiar with the Commitments of Traders ("COT") report for crude oil… The COT is a government report that classifies different types of traders and tracks their futures positions. There are two main groups of traders: industry professionals and speculators. The two groups usually bet in opposite directions…
Professionals in the oil industry use futures to protect themselves against volatility in the price of oil. They sell futures contracts (agreeing to sell some of the oil they produce) at prices where they're guaranteed a target return. The folks who take the other side of those bets – hedge funds and other traders – are speculating. When the COT report shows that these speculators all crowd to one side of a trade, it's often a good sign the asset is about to reverse.
As you can see in the six-year chart below, crude oil (the black line) rallies each time speculators' positions (the blue line) drop to around 200,000 futures contracts. And it usually stalls or drops when speculators get extremely bullish. In the past, "extremely bullish" was around 300,000 contracts. For a few years, it was closer to 400,000 contracts.
As of February 28, speculators held about 564,000 bullish futures contracts in oil…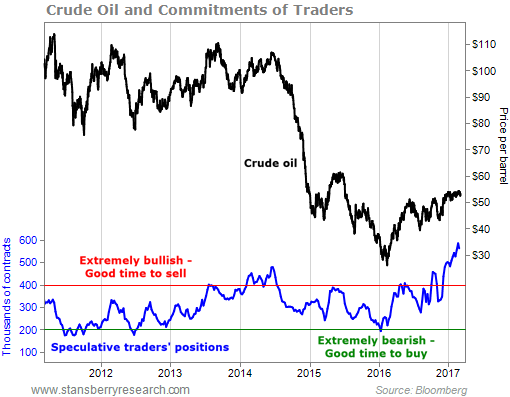 Regards,
Justin Brill
Crux note: The Stansberry Digest is an exclusive daily intelligence report for paid-up Stansberry Research subscribers. You can access these valuable insights with a risk-free trial subscription to any of our fine newsletters.
If you're new to Stansberry Research, we recommend trying Dr. Steve Sjuggerud's True Wealth newsletter. Steve's recommendations have beaten the market and returned, on average, more than 10% per year. Plus, Steve's simple, common-sense approach is perfect for folks who are new to investing. Get all the details right here. (This does not link to a long video)