The tide turns bullish for gold
From Ben Morris, Editor, DailyWealth Trader:
If you're holding gold or gold stocks, it has been a good – but slightly frustrating – year…
Both gold and gold stocks are up… But every time it looks like they're about to make big moves higher, they've turned lower instead.
We're at another critical turning point today…
This time, though, gold bulls may not be disappointed. The tide might finally be turning for gold.
Today, I'll show you the gold and gold-stock charts that I'm looking at… And I'll show you how to know when it's time to buy. It may be sooner than you think.
Let's start by looking at the long-term trend in gold…
Regular DailyWealth Trader (DWT) readers are familiar with the "200-day moving average" (or "200-DMA"). It works by collecting an asset's closing prices from the past 200 days, then taking the average of those prices. This produces a chart line that "smoothes out" market volatility.
A lot of professionals like to use the 200-DMA to size up an asset's long-term trend.
You need to consider two main things when looking at the 200-DMA…
The first is that during bull markets, assets tends to spend most of their time above the 200-DMA. During bear markets, they spend most of their time below it.
The second thing to consider is that the 200-DMA itself is the long-term trend. And it acts like a magnet. Whether it's moving higher or lower, assets tend to have a hard time going in the opposite direction for long.
So unless you're looking at a short-term trade, you rarely want to bet that an asset will move higher when its 200-DMA is moving lower, and vice versa.
In the two-year chart below, you can see that gold is trading above its 200-DMA… and that after falling for eight months, the 200-DMA just flattened out.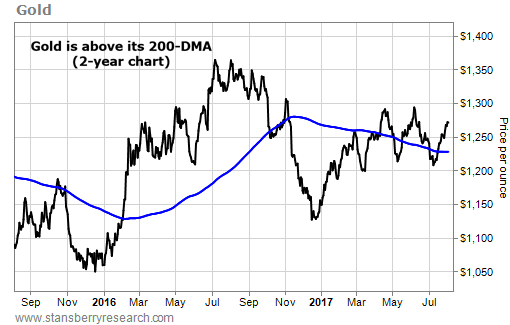 Gold's long-term trend line isn't rising just yet… But it can't rise without flattening out first. That – along with the fact that gold has traded above its 200-DMA for most of the past four months – is a bullish sign.
Next, let's revisit an indicator we first looked at last month – the gold-to-S&P 500 ratio. As the line rises, gold increases in value relative to stocks. (Gold is outperforming stocks.) As the line falls, gold loses value relative to stocks. (Gold is underperforming stocks.)
As I noted last month, the ratio traded near a nine-year low… and was on the verge of breaking down. A breakdown would be a sign that investors are going all-in on stocks and mostly ignoring gold. (It wouldn't mean that gold couldn't rise also… only that stocks would likely continue to rise faster.)
In the chart below, you can see that the ratio did break down… But just barely. Then it rebounded. The rug hasn't been pulled out from beneath gold owners' feet just yet…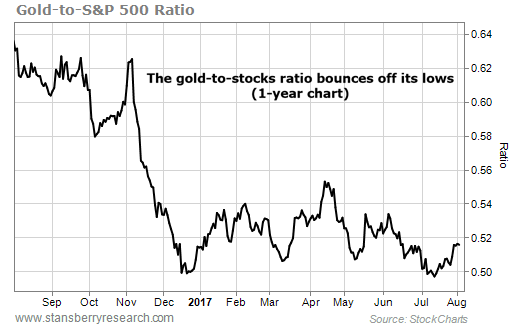 This chart still suggests that investors favor stocks over gold. But a bigger, continuous breakdown would have been far worse. For now, this indicator is neutral.
Plus, sentiment toward gold stocks is improving… Regular readers know that the bullish percent index (or "BPI") tracks the percentage of stocks in a sector that are trading in a bullish pattern. It ranges from zero to 100.
The BPI flashes a "sell" signal when it reaches 80 or higher (overbought territory) and then turns lower. And it flashes a "buy" signal when it reaches 30 or lower (oversold territory) and then turns higher.
In the chart below, you can see that the gold-stocks BPI dropped into oversold territory at the start of July… And shortly after, it started to climb back out. It was a buy signal..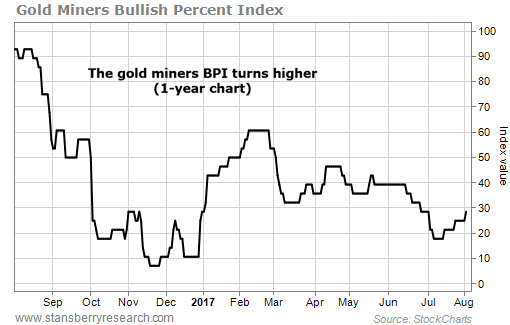 Despite the buy signal, we didn't want to bet on gold stocks just yet…
You see, gold stocks – represented by the VanEck Vectors Gold Miners Fund (GDX) – have put in a series of declining peaks. It's not a downtrend because the fund has bounced before breaking through previous lows.
But the declining peaks act like a slanted ceiling. They create a "resistance level" that gold stocks need to break through before they can make a significant move higher.
As you can see in the chart below, GDX is hitting its head on that ceiling once again…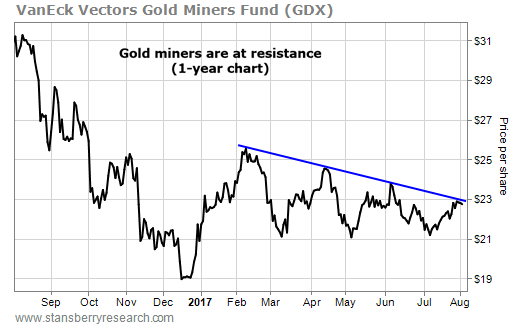 This resistance is one reason I don't recommend getting too bullish on gold stocks yet. The other reason is a chart we've tracked for more than a year in DWT – the long-term chart of gold…
In the 10-year chart below, you can see that the gold price has put in a long series of lower highs and higher lows. The lower highs act as resistance… And the higher lows act as "support." Together, they form a "wedge" (also called a "triangle")…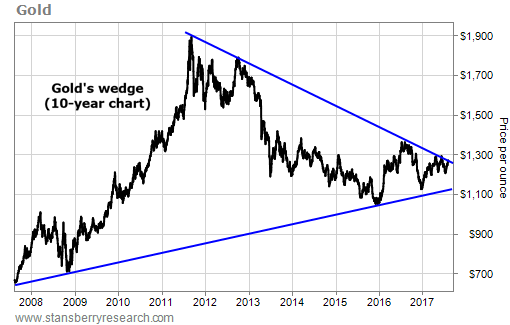 Just as in the short-term chart of gold stocks, gold is bumping its head on declining resistance in this chart. When an asset breaks out of a wedge, it often makes a powerful move in that direction.
So… on the bullish side, gold is trading above its 200-DMA. The gold-to-stocks ratio didn't break down (a relatively positive sign). And the gold-stocks BPI recently turned higher.
On the bearish side, we don't have much. Gold and gold stocks may be testing your patience… But July was a good month for gold bulls.
Gold and gold stocks are bumping up against resistance right now. And we don't want to bet on them making sustained moves higher until they break out. But overall, the picture is bullish.
When gold starts to rise, the gains in gold stocks can be huge. If gold breaks out of its long-term wedge, I expect to see triple-digit gains in gold stocks within the next one to two years.
We're getting close… And the signs point to higher prices. Make sure to have some cash on hand for upcoming opportunities. They could come as soon as next week.
Good trading,
Ben Morris
Crux note: Ben tipped his readers off to an almost identical "wedge" pattern in Chinese internet giant Baidu (BIDU) back in May. So far, his recommendation on the stock is up 29.5% in about three months. He also just shared a little-known commodity stock with triple-digit upside within the next year. Ben shares ideas like these every morning the market is open in his excellent DailyWealth Trader advisory. Learn how to get a risk-free trial membership right here.