CHART: The next big gold rally could be starting right now
From Justin Brill, Editor, Stansberry Digest:
'September could get ugly'…
Longtime Digest readers know September is historically the worst month of the year for U.S. stocks.
And it isn't even close… It's the only month in which the Dow Jones Industrial Average has closed lower on average over the last 20, 50, and 100 years, according to data from research firm Bespoke Investment Group.
But this year adds several additional wrinkles to the usual seasonality…
According to Jeffrey Hirsch – editor of the Stock Trader's Almanac – September has been particularly weak in years following U.S. presidential elections. And this weakness has been even greater in the first year of a new Republican administration. He believes "September could get ugly" this year.
In addition, Hirsch notes two other patterns that apply this year as well. And they send a slightly different message…
In years when all three major U.S. indexes – the Dow, the S&P 500, and the Nasdaq Composite – were positive in January, September has closed higher on average. Likewise, in the seventh year of a decade, September often performs better than usual.
But it's important to point out that in both of these scenarios, October then tends to be far weaker than usual.
In other words, all five of these patterns suggest the market could struggle over the next month or two.
We continue to believe a pullback is likely. Stay long, but keep a close eye on your stops
What about the 'Melt Up?'
Now before we receive another flood of angry e-mails, let us be clear…
As we've discussed in several recent Digests, our near-term caution does not necessarily contradict Steve Sjuggerud's Melt Up thesis.
In fact, both of our resident "bulls" – Steve and Dr. David "Doc" Eifrig – have said a pullback or correction is possible. But Steve believes the "Melt Up" will continue either way.
No one can predict the future of course, but Steve follows a number of long-term indicators closely… and none are signaling trouble right now. The market's "vital signs" say the bull market will continue awhile longer. (And Doc Eifrig agrees.)
This means any weakness we do see in the next couple of months is likely to be a buying opportunity, rather than a reason to sell.
The next big gold rally could be starting now…
Regular readers know our colleague Ben Morris has been watching gold closely for months. In particular, he's been waiting for gold to break out of a long-term pattern before turning super-bullish again. We shared the following excerpt from his excellent DailyWealth Trader advisory back in the April 12 Digest…
When we look at a longer-term chart of gold, we see that gold faces a big resistance level at about $1,300 per ounce…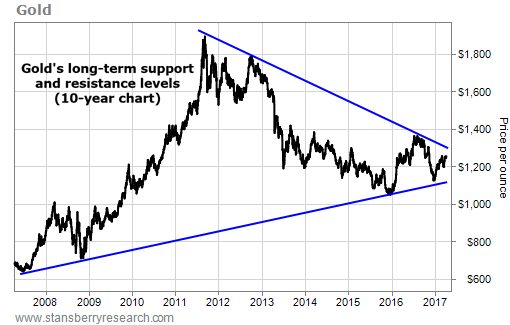 So even if gold breaks through its shorter-term resistance, we won't get aggressive in the sector until gold breaks though this longer-term resistance level.
This week, after months of fits and starts, gold finally broke above this critical $1,300 level…

And Ben believes this could finally be the start of the next big rally in precious metals. As he wrote in yesterday's DailyWealth Trader…
On Monday, gold jumped $17 per ounce (or 1.3%) to a 10-month high of $1,315 per ounce. It took out a major resistance level that we've been watching for close to a year…
Gold has been trading within a giant "wedge" (also called a "triangle") since 2007. Here's a quick recap of what that means…
"Support" and "resistance" are two of the most important concepts in chart-reading. "Support" is a level at which folks tend to buy an asset and prices often stop falling. "Resistance" is a level at which folks tend to sell and prices often stop rising.
A "wedge" is a chart pattern in which the asset's support is a rising trend line and its resistance is a falling trend line. The asset bounces around within a smaller and smaller range. And when it breaks out, it often does so in a big way.
It's like letting go of a compressed spring. And the bigger the wedge, the more the asset is likely to move. In the chart below, you can see that gold just broke out of a massive wedge…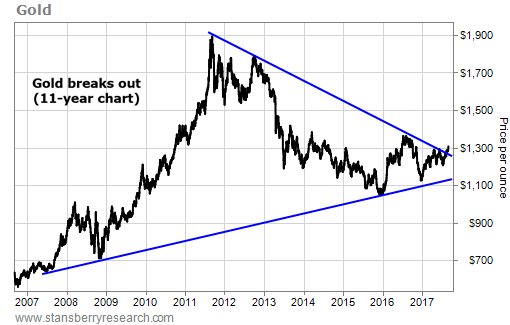 As Ben explained, when an asset breaks out of a wedge – either to the upside or to the downside – you can figure out a rough price target based on the breakout point. And in this case, it suggests gold could be headed much higher…
To keep things simple, let's say the first point on the bottom of gold's wedge was $700 per ounce (it was right around there in 2007). The first point at the top of the wedge is $1,900 per ounce. That's a $1,200 range.
You can use $1,200 from the breakout point as a price target. Since gold broke out of its wedge at about $1,300 per ounce, the chart pattern suggests a price target of $2,500 per ounce.
That's an extremely optimistic price target… But it is possible. And importantly, you don't need gold to reach anything close to $2,500 per ounce to make a lot of money… When gold starts to rise, the gains in gold stocks can be huge.
As longtime readers know, this is because gold stocks are leveraged to the price of gold. This means they can rise many times more than the price of the underlying metal. More from Ben…
Think about it this way… If a gold miner makes a $200 profit per ounce when gold sells for $1,300, it will make closer to a $300 profit (a 50% increase) when gold sells for $1,400. Costs don't rise with the price of gold… Only profits do.
The same is true for the miners of other precious metals and the prices of the metals they mine. And as I've said before, both silver and platinum are cheap relative to gold right now. So those metals and stocks may have more upside.
Of course, this breakout isn't the only reason to own precious metals today…
As Ben reminded readers, they're also one of the most dependable forms of "financial-disaster insurance" you can buy. And like us, he believes it would be incredibly foolish not to own some today…
Gold and silver have been used as money for thousands of years. They are "safe-haven" assets. And they have a long track record of preserving wealth. So both are natural choices in the event of a global crisis…
If you didn't trust paper bills issued by governments, where would you turn? What would you accept for your goods or services? A digital currency, like bitcoin? Maybe… but widespread acceptance of digital currencies is still a long way off. Around the world, people would accept gold and silver… just like they've always done.
With North Korea firing missiles and with U.S. stocks trading near all-time highs, more and more investors will be looking to preserve the wealth that they've accumulated. More and more people will buy gold and silver.
The chart above shows that the story is starting to play out. It's the market confirming what we've been saying all along… You want to hold some of your wealth in precious metals, just in case…
In short, if you've been waiting for a low-risk buying opportunity in precious metals, Ben says you now have it. But as always, proper position sizing is important…
As a general guideline, I suggest holding 5%-10% of your net worth in a combination of physical precious metals and related stocks, with the majority in the physical metals.
Now that gold has broken out, though, you may want to increase your holdings a bit. I'm not recommending anything crazy… If you were at 10% of your net worth before, a 12%-15% allocation may make sense.
Remember, as prices rise, the percentage will likely grow. And the metals and stocks will experience plenty of volatility along the way. You don't want to hold so much that a big drop will keep you up at night…
What should you buy? If you don't own any physical metals, start there. If you don't own any gold and silver stocks, a diversified fund like GDX is a great place to start…
Whatever you do, make sure you have some exposure to precious metals. Gold just broke out of a 10-year-long wedge… And much more upside is likely. This time to buy is now.
Crux note: Gold is headed higher. And Ben is positioning his readers for hundreds of percent gains. To learn Ben's top gold and gold stock recommendations, sign up for a risk-free trial subscription to his DailyWealth Trader newsletter right here.