The new bull market you're probably missing out on
From Ben Morris, Editor, DailyWealth Trader:
Stocks just hit a new 52-week highs…
I'm not talking about U.S. stocks (although they just did too). I'm talking about the rest of the world…
Stocks in Germany, Hong Kong, Australia, France, Spain, Singapore, the U.K., Taiwan, South Korea, Belgium, and India are all trading at their highest levels (in terms of U.S. dollars) since this time last year… or earlier, in some cases.
The stock markets of most of these countries have outperformed the U.S. benchmark S&P 500 Index over the past year. And as I'll show you today, this new trend could have a long way to run.
But lots of folks in the U.S. aren't participating in the gains. If you're one of them, I want you to read today's issue and ask yourself, "Why not?"
The Vanguard FTSE All-World ex-US Fund (VEU) is the largest exchange-traded fund dedicated to diversified non-U.S. stocks. It holds stocks from 54 different countries, with larger weightings in developed markets like Japan (17%) and France (7%) and smaller weightings in emerging markets like India (2.4%) and Colombia (0.1%).
As you can see in the chart below, since bottoming in March 2009, the S&P 500 is up 253% while VEU is up just 109%. But over the past year, VEU has kept pace with the S&P 500. It's in a strong uptrend…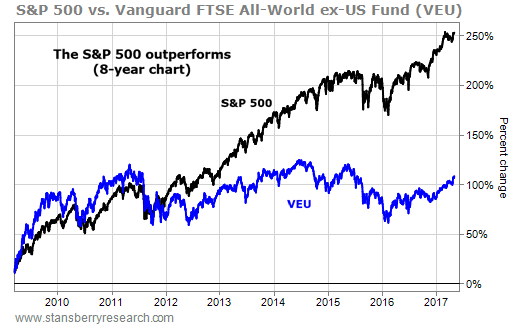 If you were to look at similar charts with funds of emerging market stocks (like EEM) or large European stocks (like FEZ), you would see similar pictures. EEM is up 92% and FEZ is up 68% over the same span. And like VEU, both are trading at 52-week highs, too.
But based on most metrics, U.S. stocks are no longer cheap. The S&P 500's average price-to-earnings (P/E) ratio over the past 30 years is 19.2… and it now has a P/E ratio of 21.4. Its average price-to-sales (P/S) and price-to-book-value (P/B) ratios over the past 30 years are 1.4 and 2.8, respectively… And it now has a P/S ratio of 2.1 and a P/B ratio of 3.1.
Plus, folks are no longer pessimistic. The American Association of Individual Investors' sentiment survey shows people are currently in line with their average historic sentiment levels. And when talking with friends and family, I'm now hearing more upbeat attitudes than in the past. (When pessimism accompanies an uptrend, it's a bullish sign.)
Now don't get me wrong, U.S. stocks are still attractive. In DailyWealth Trader (DWT), we're positioned to benefit from higher U.S. stock prices. But that doesn't mean you should have all your money in just one market…
Many foreign stock markets are cheap, hated by investors, and in an uptrend. (If you've read my colleague Steve Sjuggerud's work, alarm bells should be ringing.) And as you can see in the chart above, they've far underperformed U.S. stocks. Steve is bullish on lots of foreign markets – especially emerging markets – for those reasons.
In DWT, I haven't recommended buying a broad non-U.S. fund like VEU… although I do expect it to continue doing well. Instead, we've targeted specific countries' markets.
Each one has its own great investment story… And we're up double digits on each of them. We'll likely add more exposure to foreign stocks in DWT as the uptrends continue.
Lots of folks avoid buying foreign stocks completely… Or they allocate only a tiny percentage of their wealth to foreign markets. And over the past eight years, for the most part, it has been the right move.
But the tide may now be turning. U.S. stocks have had a heck of a run… And they've gotten expensive. That doesn't mean they won't continue higher. But it does mean they carry more risk. Eventually, people will stop buying expensive stocks.
On the other hand, stocks in lots of other countries – like Greece, Japan, and Argentina – have been devastated. They've far underperformed U.S. stocks… Many are cheap… And they're now in uptrends.
If you don't own foreign stocks yet, why not? It's a great way to diversify your assets to reduce risk. And after underperforming the U.S. for so long, the upside potential is huge.
Foreign stocks may be in the early stages of a new bull market. Get on board.
Regards,
Ben Morris
Crux note: This trend has been serving Ben and his DailyWealth Trader readers well. So far his foreign market recommendations are up 13%, 16%, 17% and 24%, respectively. And one of his most recent recommendations – from February – is already up 60%. Learn how to access all of Ben's top ideas with a risk-free trial right here.