Sjuggerud's Melt Up thesis is catching on…
From Justin Brill, Editor, Stansberry Digest:
The incredible year for Steve Sjuggerud's True Wealth China Opportunities subscribers continues…

Regular Digest readers know Steve made a bold call last summer. In short, despite years of dismal performance – and widespread fear of economic collapse – Steve said Chinese stocks were a "buy" again.
At the time, Steve noted that Chinese stocks met his three favorite investment criteria: They were cheap, hated, and just starting an uptrend. Better yet, he had identified four major catalysts – including the recent groundbreaking decision by index provider MSCI – that could drive Chinese stocks higher for years to come.
It wasn't a popular call… Most of our readers have no interest in buying foreign stocks, let alone shares in "communist" China. But for those bold enough to take Steve's advice, the results have been nothing less than incredible.
As of Friday's close, every single one of Steve's original True Wealth China Opportunities recommendations are up this year… for an average gain of 40%. Again, this isn't "cherry-picking." That's the average year-to-date return across the entire portfolio.
But Steve believes these gains are just the beginning… Plenty of upside remains, and he expects subscribers will see total returns of hundreds of percent over the next several years.
Congrats to Steve and his True Wealth China Opportunities subscribers on another great call.
'There's still plenty of upside left in U.S. stocks'…
Of course, Steve remains incredibly bullish on U.S. stocks as well.
Longtime readers know Steve was among the first analysts anywhere to turn bullish on stocks back in early 2009. And he has remained bullish for the past eight years. Time and again, he reassured readers to stay long – the bull market wasn't over yet.
Today, despite fears that stocks are too expensive and the bull market is getting "long in the tooth," Steve continues to believe more upside remains ahead.
Why? Because he's still not seeing the telltale signs that accompany a major top. As he explained in Thursday's edition of our free DailyWealth e-letter…
I know how "hot" an investing idea is the moment I step off the podium after giving a speech.
If I draw a huge crowd right after speaking, and people are asking a ton of questions about exactly how to take advantage of the idea, then I know we're getting close to the top.
The craziest time was when the questions continued even as I made my way into the restroom – and even as I stood at the urinal. Then I knew the idea was at a top.
I tell you this because I spoke at the Vancouver conference this week (it's actually called the Sprott Natural Resources Symposium, but most people call it the Vancouver conference).
As Steve explained, at this year's conference, he talked about his "Melt Up" thesis. And the response surprised even him…
I shared this chart, which shows that the Nasdaq went up 100% during the final year of the last Melt Up… and that most of those gains really happened in its last five months. Take a look: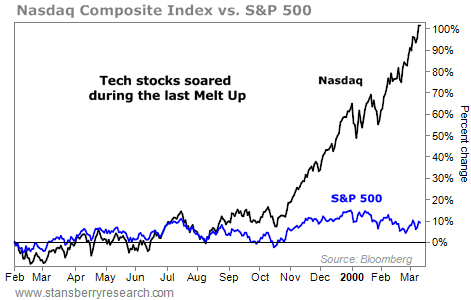 I said that I expected we could see a similar type of Melt Up this time around.
And yet… nobody cared. More from Steve…
Instead of getting mobbed by an excited crowd… "How do I trade it?"… "What do I buy?"… Nobody really asked me anything afterward. I got "crickets." It's all right. I know what it means. It tells me that nobody cares about U.S. stocks. Still.
It blows my mind. We're more than eight years into this bull market – and nobody cares about stocks yet. It's shocking. It's not just individual investors. Fund managers feel the same way… It's crazy. It also tells me that there's still PLENTY of upside left in U.S. stocks.
Remember the market peak in real estate, when EVERYBODY was "in real estate"? I expect we will have a similar feeling about the stock market when it peaks. We are still a long way from that.
Again, I can tell how popular an investing idea is by the size of the crowd I draw after I step down from the podium. This week, I talked about my Melt Up thesis – and nobody cared.
When U.S. stocks get so popular that I'm still getting questions all the way to the urinal, I will let you know… We are definitely not there yet. There's still plenty of upside ahead…
Steve's thesis is catching on with some high-profile investors…
While most folks still don't believe a Melt Up is possible (let alone likely), we're starting to see some notable exceptions…
For example, late last month, Steve's research was highlighted at a private investment conference by one of the biggest names on Wall Street. Unfortunately, we're not at liberty to share the details publicly. But we can say you would certainly know his name… He's one of the most respected credit analysts in the world today.
Earlier this month, well-known institutional investor David Tice called Steve "brilliant" – and said he has been following his Melt Up work closely – live on financial television. (The reference begins a little after the 2:00 mark.)
And last week, veteran market strategist Ed Yardeni echoed Steve's bullish call… even borrowing Steve's terminology. As financial-news network CNBC reported over the weekend…
Edward Yardeni believes investors who succumb to stock market jitters could miss out on another wave of big gains. Yardeni noted the most recent record highs for the Dow Jones, Nasdaq and S&P 500 indices aren't being driven by a surge in valuation multiples. Rather he says the activity is "more like a melt-up in earnings." And, that's a bullish sign for the rally…
"The fundamentals are just cranking along at a decent pace here. Earnings are doing remarkably well given that the economic data looks kind of slow. But somehow or another, companies are generating good revenues and good earnings. I think that's because the global economy is doing reasonably well," said Yardeni of Yardeni Research recently on CNBC's "Futures Now.
Most recently, Yardeni has been arguing that some of the best bull markets have "climbed a wall of worry," and this situation is no different.
Is the next leg of the Melt Up starting now?
As we noted last week, we wouldn't be surprised to see stocks pull back – and volatility move higher – in the near term. We're long overdue for a correction… And history suggests we should expect more volatility as the Melt Up continues.
But there's no guarantee that we'll see one just yet. In fact, one rare signal suggests the next leg higher in the Melt Up could be about to begin. As Steve's senior analyst Brett Eversole explained in DailyWealth yesterday…
We're smack in the middle of the current bull market's Melt Up. But history says it's not over yet.
One reason is a rare anomaly that happened in the Nasdaq. The index recently moved higher for 10 straight trading days. That's a rare feat. As I mentioned, it has only occurred two other times during the current bull market.
You can see the recent run in the chart below…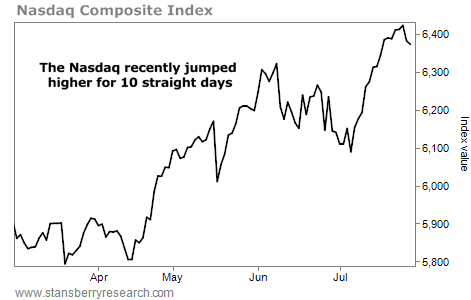 The Nasdaq moved higher every single trading day from July 7 to July 20. The current market uptrend is strong.
As Brett noted, even during a strong bull market, stocks usually have plenty of down days. So the recent string of up days is unusual, and worth paying attention to…
Again, this is a rare anomaly. It's happened less than 1% of the time since 1971. But it's also occurred before big gains in the Nasdaq.
Specifically, buying after the Nasdaq jumps 10 days in a row has led to a 2.3% gain in one month and a staggering 14.6% gain in three months.
A gain of 15% in three months seems like a crazy prediction… But the Melt Up is in full effect… and history points to big gains after this rare anomaly. Now isn't the time to be timid and sit on the sidelines. It's time to be bold and buy.
Our advice remains the same: Stay long stocks, but be sure to hold a little "portfolio insurance" just in case.
In the meantime, if you're not already reading Steve's True Wealth Melt Up research, you owe it to yourself to learn more. For just $99 – less than $0.30 per day – you can get immediate access to one full year of True Wealth, including Steve's complete Melt Up "blueprint." And as usual, it comes with a 30-day, 100% risk-free guarantee. Click here to sign up now.
× Subscribe to Crux