Sjuggerud: FINALLY! A good setup in gold stocks
From Dr. Steve Sjuggerud, Editor, True Wealth:
Could it finally be time to get back into gold stocks?
We actually – finally – have a good setup for gold stocks right now… if you're bold enough for it.
Let me explain…
I just got home from "the gathering of gold bugs" – the Sprott Natural Resource Symposium in Vancouver.
Last July, when I spoke to this group, I told them that I had sold all of my gold stocks the day before the conference. You could have heard a pin drop in the audience. But it was exactly the right thing to do…
Gold stocks began to crash at that point. The main gold-stock fund, the VanEck Vectors Gold Miners Fund (GDX), fell from around $31 to about $19 in the second half of 2016 – a fall of nearly 40%. Many smaller gold stocks fell even more.
All the way down, gold-stock investors wanted to know if I was buying back in yet.
For the second half of 2016 and the first quarter of 2017, my answer was always the same: "No… because gold-stock investors haven't given up on gold stocks yet."
"But you don't get it Steve," I heard back. "Gold-stock investors will never give up."
Gold-stock investors are a stubborn bunch. Gold stocks started falling last August, and gold-stock investors kept buying all the way down. It took until April for them to finally give up on gold stocks and start selling.
The chart below tells the story. It shows the shares outstanding for GDX…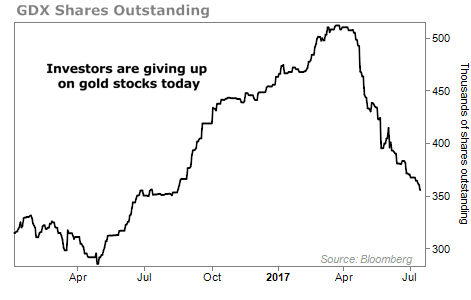 When the shares outstanding are rising, it typically means investor demand exceeds supply – in short, investors love gold stocks. And when this number is falling, it typically means investors are throwing in the towel.
You can see that gold-stock investors finally started giving up on gold stocks in April – and they've continued to give up. This is good. It's part of what I want to see…
If you've read my writing in the past, you probably know the setup I look for in a trade…
You know I want to buy what's 1) cheap, 2) hated, and 3) in the start of an uptrend.
So the question is… are we there yet? Do we finally have a great setup for a trade in gold stocks?
Sort of.
It appears that gold stocks are finally hated, based on the chart above.
However, when you look at a chart of GDX, it's hard to make a compelling case that we're in the start of an uptrend.
If you are determined to make a trade in gold stocks, I can suggest a low-risk, high-return trade for you to put on today.
Take a look at this chart. It tells the story…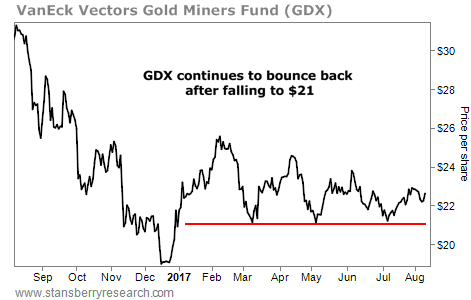 You can see GDX's big fall in late 2016. But this year, something unusual has happened: Every time GDX has fallen to $21, it has recovered and bounced higher.
So your good trade "setup" today is to buy GDX, and use a hard stop of $21. If GDX CLOSES any day below $21, sell it the next day.
Your downside risk is about 5% from today's levels. But your upside potential is many times that.
An ideal setup to me is anytime you can create a situation where your upside potential is three times your downside risk. With downside risk of about 5%, you're looking at pretty darn good setup. Your upside potential far exceeds your downside risk in this trade.
Let me be straight with you… I am not bold enough to take this setup – yet. But it's getting pretty darn close. It's a "good" setup in gold stocks… not great, but good.
If you've been waiting for a good setup to buy gold stocks, you finally have one.
If you're bold enough… and IF you are willing to follow your exit strategy, you could do pretty darn well on this trade.
Good investing,
Steve