Silver EXTREME: It's time to take a low-risk, high-reward trade in the most explosive precious metal
From Amber Lee Mason and Brian Hunt, editors, DailyWealth Trader:
Today, we're going to share a timeless piece of trading wisdom that will help anyone make a lifetime of low-risk, high-reward trades…
And we're going to share our top way to put this knowledge to work right now…
The piece of wisdom is: To consistently win in the market, the trader must be a "connoisseur of extremes."
An extreme is when the majority of market participants are betting heavily on one side of the market. It's just like overstretching a rubber band: When it's stretched past the limit, it snaps back… and prices move at super-speed.
Extremes can occur in an asset's fundamentals (valuation)… They can occur in an asset's technicals (price and trading volume)… And they can occur in market sentiment toward an asset (pessimism versus optimism).
Over the last few months, we've shown you a couple sentiment extremes…
A simple way to judge sentiment is with the "commitment of traders" (or COT) report. It's a government report that classifies market participants and tracks their positions. When these positions reach an extreme level of bullishness or bearishness, it can signal an impending market reversal.
Since we showed you a COT extreme in the oil market, prices have fallen 4%. Since we showed you a COT extreme in the copper market, prices have broken out to a new eight-month high.
We have a similar setup right now in silver…
Take a look at the chart below. It shows the last three years of trading in silver (the black line) and the silver positions held by speculative trading funds (the blue line). As you can see, the blue line recently hit an extreme low. Speculative trading funds have rarely been this down on silver in the last 20 years.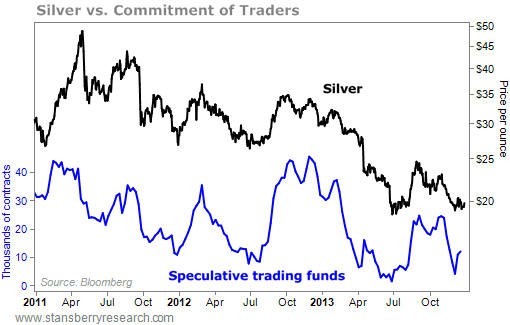 Our go-to expert on sentiment analysis is Jason Goepfert, who runs the excellent SentimenTrader website. He notes, "When [the COT] measures reach this kind of extreme in commodities, it's usually good for at least a 1-3 month jump…"
That's exactly what happened to silver in late 2011: a 36% rise in two months. It happened again in summer 2012: a 33%, three-month rise. (We showed you how to trade it here.) And again in summer 2013: a 32%, two-month rise. (We showed you how to trade it here.)
But the best part about this "extreme" trade isn't the potential upside… It's the very low, very well-defined downside.
You see, silver prices have fallen along with sentiment. The chart below shows SLV, a large, liquid fund that tracks the price of silver. Right now, SLV is sitting just 6% above its two-year low.
If SLV violates these lows, silver's bear market will likely get "more extreme" before it's ready to snap back. We don't want to stick around for that. So we suggest setting a hard stop at $17.75. That's about 7% below today's levels.
On the upside, we could easily see a quick 30% jump, just like the last three times around. In other words, you're risking $1 to potentially make $4. That's a low-risk, high-reward trade.
And that's what you find when you become a connoisseur of extremes.
Crux note:
DailyWealth Trader
editor Amber Lee Mason recently produced an 11-part video series you may be interested in. These short, easy-to-understand videos cover the essential concepts the world's best traders use to beat the markets.
Click here
to watch the first short lesson, "The Most Important Thing Ever Said About Trading," absolutely free.
More on silver: