Sign of a bottom — finally — in mining stocks
From Jason Goepfert at SentimenTrader: 
Conditions are bad in the mining sector…
Conditions are so bad that two of the leading players just resorted to the last-ditch effort of suspending their dividend payments.
This is an extremely rare occurrence. By the time sentiment has gotten this ugly, it has marked the final exhaustion in the last two down cycles.
Last week, Anglo American (AAL.L) and Freeport-McMoRan (FCX) decided that (for the health of their companies' futures) they will stop paying dividends, cut their workforces, and try to survive.
Next to fraud, this is about the last thing a company wants to admit. Dividends are considered sacrosanct – especially in this market environment where it's hard to get yield anywhere else. So they must really be desperate.
That sounds like a bad thing, and perhaps it will be this time. But that's not what history suggests…
It's not the first rodeo for either of these firms. They've both suspended their dividends at least once in the past 20 years. Freeport did so on December 9, 1998 and December 3, 2008. And Anglo did it on February 20, 2009.
These dates roughly coincided with bottoms in metals and mining stocks, as you can see from this chart: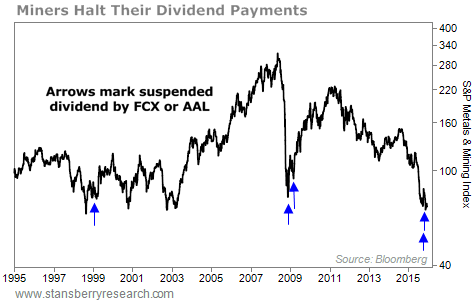 In short, by the time the companies reached this desperate measure, metals and mining stocks had already been hit extremely hard (a company will never suspend a dividend in anticipation of tough conditions).
By the time Freeport suspended its dividend in 1998, the S&P Metals & Mining Index was down 50% from its monthly closing high. In 2008, it was down 67%. Currently, it is down 69%.
That tended to be about it for the selling pressure. A month later, the Metals & Mining Index was higher by 14%, 40%, and 12%, respectively. Six months later, the returns were much better. Take a look:
These dividend suspensions are exactly what potential shareholders should be looking for as a signal that sentiment is nearing a trough.
Regards,
Jason Goepfert