Porter Stansberry's research team just revealed an investment secret you've never heard before
Editor's note: Prior to joining Stansberry & Associates in 2012, Bryan Beach spent several years working in the "Big Four" accounting world before serving as a Controller for a publicly traded company.
Those of you who subscribe to Stansberry's Investment Advisory or listen to the Stansberry Roundtable podcast are already familiar with Bryan's work. He helped develop some of Porter's most powerful and popular tools, including the Capital Efficiency Monitor and the P&C Insurance Ranking System.
Today, he's sharing a major secret… the next big project underway at S&A.
From Bryan Beach in The S&A Digest:
I have studied businesses nearly every day for the past 15 years.
I've been a Certified Public Accountant and an equity analyst in one of the broadest "shops" in the world. Stansberry & Associates allows its analysts to study any sector and any business, anywhere in the world.
And… over this time… I've learned one big secret. Although I was impressed with the nine secrets that Porter shared during his run as Digest editor last month, I think my secret is even more valuable. I hope you will, too.
What's the secret?
Businesses, created by people, managed by people, serving people, and owned by people… are just like people. Each one is unique. No two are exactly alike. And some businesses are vastly better than others.
Take trucking company Heartland Express, for example. How much better could one trucking company be from another? You buy some trucks (or lease them). You hire some drivers. You advertise your services. You charge what the market will bear for what is a simple commodity business. And yet… as you may recall… Heartland Trucking Express is different from its peers. Porter made Heartland the focus of his January 3 Digest…
How could a transportation company – supplying what's essentially a commodity – be a great business? Incredibly, this company earns 10% a year on its asset base, produces returns on equity of 20% annually, and carries zero debt. If you read Heartland's latest letter to investors, you will see why almost immediately – exceptional management.
Heartland is the most efficient trucking company in America by a huge margin. Its operating ratio (operating expenses as a percentage of gross revenues) is the lowest in the industry. As a result, its profit margins are the biggest: Heartland has earned a 12% net margin over the last five years. The company earns more than a dime on every dollar of revenue. Swift Trucking, a larger trucking company picked at random for comparative purposes, earned about 2.5 pennies on each dollar of revenue in 2012.
The difference in profitability means everything. Swift, unlike Heartland, can't generate enough cash to afford its massive annual investments in trucks and trailers. So it has to borrow. It currently holds $1.3 billion in debt, requiring more than $100 million a year in interest payments. That makes a huge difference in a competitive business like trucking.
As Porter went on to explain, there's also no money left over for Swift shareholders. Swift hasn't returned a penny to shareholders over the last three years. Rather than buying stock, the company has issued more than $800 million worth…
It's as if, rather than working for the shareholders, the employees and management of Swift expect the shareholders to support them. 
At Heartland, everything is different because of the focus on operational excellence. The company is producing more than $100 million a year in cash. It's no secret how it does it. The CEO explains: "We distinguish ourselves by operating a new fleet of well-maintained equipment, industry-leading driver pay, and outstanding federal Compliance-Safety-Accountability scores… The achievement of our goals can only be attained through the hiring and retention of the best drivers in the industry."
Management seems willing to spend heavily on the things that matter and nothing on anything else. And that's the company's key competitive advantage.
My current project is to build a system that allows us to quickly scan an entire universe of publicly traded equities to find companies that are clearly (vastly) superior to the other operating companies in their sectors. Although there's no "one-size-fits-all" metric for determining "the best" companies, there are certain measures of quality that help us quickly find truly one-of-a-kind operators. We'll detail our model at another time.
For now, let me just tell you what we've found.
The companies that consistently trounce their peers in the most relevant metrics generally have two or three of the following characteristics:
A strong brand name.
A product or service that is difficult or not plausible to replicate.
A product in high demand that is resistant to recession.
An extremely focused niche and no viable competition.

Expertise in "dirty" or "unattractive" businesses.
Here's a small part of our work. This table shows a list of companies that earn significantly higher returns than the competition. For simplicity's sake, in this particular illustration, we're focused on gross margins. That's the amount of profit a company makes per unit of sales. It's not the only factor in our model, but it's a great tool for comparing different operating companies in the same sector. After all, if one business can make twice as much money as its competition selling the same basic goods or services… it must be doing something right.
One other note… Over the last five years, a fund of the S&P 500 index would have returned 136% (including reinvested dividends). All but two of the companies on the following list crushed that return – and all 12 have more than doubled since 2009.
The Secret to the World's Greatest Companies
Company

Ticker

Sector

20-Quarter

Margin

Avg. Competitor

Margin

5-Year

Return*

Business Description

TransDigm Group

After-market parts to the aerospace industry

LKQ 

Recycled, after-market, reconditioned auto parts

CTC Media

U.S.-based, non-government-owned TV in Russia

Mobile Mini

Exponent 

Scientific research, engineering services

Taser

Stun guns, shocking devices

Universal Display 

State-of-the-art smartphone and TV screens

Mead Johnson

Hanger 

Orthotics and prosthetics

Sotheby's

Tiffany & Co.

Saia

"Less than truckload" shipper

* Includes reinvested dividends
Caution: Before you call your broker… all of these stocks are too expensive to buy right now. These are not recommendations. At this point, we're just identifying great companies.
Let's take a quick look at which companies fit under each of the characteristics listed above. Taser, Sotheby's, and Tiffany all boast a strong brand name. Sotheby's and Tiffany are the gold standard in the auction and jewelry worlds, respectively. As for Taser, any time your company's name has become a verb (a distinction Taser shares with Google), you know you're doing something right.
Next is a product or service that is difficult or not plausible to replicate. Universal Display and Exponent both fit the bill. Universal's high margins are partially attributable to the company licensing its strong patent portfolio in the world of high-tech. Exponent is a huge worldwide conglomerate of scientists – a network with which almost no company could easily compete.
Third on the list is a product in high demand that is resistant to recession. The majority of the companies on the list above qualify for this category: TransDigm and LKQ (airlines and cars will always need replacement parts), CTC Media (people will always watch TV), Taser (police will always need weapons), Hanger (demand for its products is not based on economic concerns), and Saia (interstate commerce will never come to a halt).
As for companies with an extremely focused niche and no viable competition, Tiffany and Sotheby's qualify for this category because they're focused on one tiny market segment (the ultra-wealthy 1%). Their high margins are a direct reflection of the prices this niche can pay. And Taser deals with police departments. Why expand when you have 90% market share?
Hanger targets an even narrower market. It dominates the market for prosthetic limbs. Not only does Hanger provide the prosthetics, but it operates rehabilitation clinics and provides services and counseling. It may not be a household name – and most of us will never need its products or services – but Hanger boasts the best margins in its sector because, like the other companies in this category, it is committed to serving one small niche better than anyone else.
Similarly, Saia is a trucking company with even better margins than Porter's beloved Heartland. It focuses on the "less than truckload" (LTT) market. LTT is perfect for businesses that have too much to ship by UPS but not enough to fill an entire truck. LTT loads are worth more per square foot than a typical load, and Saia's margins prove that the company has figured this out.
Last on the list is expertise in "dirty" or "unattractive" businesses. What's a dirty or unattractive business?
Let me put it this way. Would you rather tell people you own a trailer park or a beachfront mansion that you try to rent out most of the year? Nobody wants to be the guy at the cocktail party who owns trailer parks. But guess what? The trailer park is a far superior business. In fact, trailer parks are probably the best investment you could make in real estate. If you buy right, the cash returns on a trailer park can approach 20%. Unlike the beachfront mansion, you don't need hurricane insurance. You don't have to deal with the headaches of finding tenants on a weekly basis.
Dirty, low-status businesses are often the best businesses because they don't attract capital. There's no glamour. In our work, we find lots of shockingly high-quality junk yards, trailer parks, pawn shops, trash-pickup companies, storage units, and funeral homes. They're recession-proof cash cows.
In short, if you'd be embarrassed to tell people you own it, it's probably a great business. LKQ is a glorified junk yard that sells used auto parts. TransDigm is in a similar market, but for airline parts. Mobile Mini is in the portable storage business. Talk about dirty and unattractive.
All three of these companies are also following a tried and true playbook for the "seedy underbelly" business. They are growing quickly by snapping up "Mom and Pop" operators.
Billionaires Wayne Huizenga and Wayne Hughes have both perfected this strategy. Huizenga leveraged his one-truck trash operation into Waste Management, the trash-hauling colossus… and then consolidated thousands of Mom and Pop video stores – which, at the time, were strictly focused on adult entertainment – into the Blockbuster Video empire.
Hughes spent decades consolidating the storage-unit industry into Public Storage. He's following the same model with Stansberry's Investment Advisory holding American Homes 4 Rent. The companies are bigger, but this is exactly what we're talking about: trash, storage, and landlords.
Again, as we mentioned above… all of the companies on the list above qualify for multiple categories. You don't get margins twice as good as your competition unless you fit into two or three of these categories. That's just a fact.
There's one company on this list that we haven't talked about. And it's my favorite company on the list. I'm talking about Mead Johnson.
When we started this exercise, I knew we would find Mead Johnson on the list. It's a 109-year-old company started by one of the Johnson & Johnson cofounders. Mead Johnson has an unbelievable business model. In fact, I'm not sure I can think of a better business model. When you look at the characteristics above, Mead Johnson ticks almost every box. Its product is so valuable that it's kept behind locked shelves at your grocery store.
Mead Johnson sells Enfamil baby formula. This is an extremely unusual business. For one thing, here in the U.S. it's essentially a duopoly. Talk about a strong brand name. There are only two brands – Enfamil and Similac – and each one controls about 40% of the market. Plus, new moms rank second only to business travelers in terms of the strongest brand loyalties.
And Mead Johnson is perfectly positioned. Consider Atlanta's Northside Hospital. No hospital in the country delivers more babies. And every year, every single mom is discharged with a duffel bag filled with Enfamil powders and formula.
To be fair, this same set of circumstances holds true for Similac. I'm sure Uncle Sam pays for just as much Similac as Enfamil… and Similac almost certainly has sweetheart freebie deals with other hospitals. But Abbott Labs owns Similac. And Abbott Labs is a large conglomerate with dozens of valuable brands. So if you want a pure trade on the government-sponsored baby formula duopoly, Mead Johnson is your only choice.
Baby formula is strictly regulated by the Food & Drug Administration (FDA). Launching a new product is similar to launching a new drug… so nobody bothers. I would argue that makes its products very difficult and not plausible to replicate. The government won't let anyone compete with these guys.
And according to consulting firm UBIC Consulting, government programs like food stamps support about one-third of the U.S. formula market. And with the number of food-stamp recipients skyrocketing, this trend is bound to continue. Essentially, Uncle Sam is fending off potential competitors with one hand and cutting Mead Johnson a check with the other.
So if you think Americans are going to continue to have babies… If you think the government is going to continue to expand entitlement programs… If you think new moms are going to only buy their kids the best… And if you like owning companies whose only product is a national duopoly… You need to put Mead Johnson on your watch list.
This brings us to the valuation part of our exercise. Finding great companies is the easy part. Figuring out what to pay for them is harder. There's no "one size fits all" valuation multiple. In this exercise, our main valuation metric has been comparing enterprise value (EV) to free cash flow (FCF) over the previous four quarters – or EV/FCF. EV is the amount of money it would cost to buy a company's outstanding shares and repay its debt. FCF is the amount of money left over after a company pays its bills and makes the necessary investments in infrastructure and equipment. It's essentially the money left over for owners.
As a rule of thumb, an EV/FCF of less than 10 is cheap. But the market isn't stupid. A company like Mead Johnson will never sell for that cheap. So our task is to find the valuation level that Mead Johnson will never fall below and be ready to scoop up shares when it gets there.
Unfortunately, Mead Johnson's recent history as a public company only dates back to 2009 when it was spun off by Bristol-Myers Squibb. So we haven't seen Mead Johnson shares trade during a prolonged recession. But in 2009, as the overall market was hitting its 12-year low, Mead Johnson was still trading at a robust 18-19 times EV/FCF. The company is that good.
Mead Johnson's EV/FCF metric has gone into the 50s. Today, it hovers around 33. As crazy as it sounds, I would consider buying Mead Johnson if it dipped back into the low- to mid-20s. As the following chart shows, it can be an extremely profitable strategy to buy shares when they dip to that valuation level…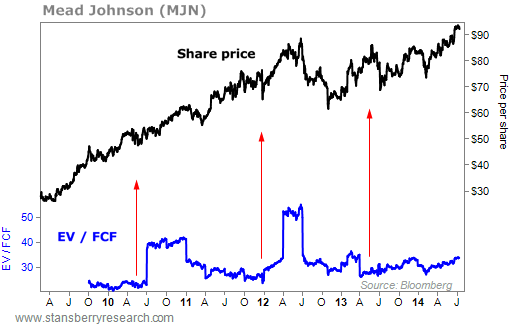 Finding Mead Johnson isn't the main point. We knew about the company and its excellent business, and so have lots of other investors. That's why the stock is always so expensive. By building a model for every subsector, we're looking to find incredible businesses as good as Mead Johnson… but that nobody has ever heard of before.
Stansberry's Investment Advisory Lifetime subscribers can monitor our progress in Stansberry Data, where we'll soon release a global "top quality" screen. And of course, Stansberry's Investment Advisory subscribers will see the results of our work in upcoming recommendations to our model portfolio.
Crux note: If you're a subscriber to Stansberry's Investment Advisory, you could be making a mistake…
You see, members of Stansberry's Investment Advisory Lifetime get access to much, much more… while actually paying less than many regular subscribers. To see for yourself, click here now.