Gundlach: Here's the real 'magic number' for interest rates
From Bloomberg:
Jeffrey Gundlach said the 10-year Treasury yield topping 3% would signal the end of the three-decade long rally in bonds.
"Almost for sure we're going to take a look at 3% on the 10-year during 2017," Gundlach, the chief executive officer of DoubleLine Capital, said Tuesday during his annual "Just Markets" webcast from New York. "And if we take out 3% in 2017, it's bye-bye bond bull market. Rest in peace."
Bond manager Bill Gross at Janus Capital Group Inc. has a different threshold. He said in an investment outlook released earlier in the day that benchmark Treasuries above 2.6% would spell the end for the bond bull market.
"The last line in the sand is 3% on the 10-year," Gundlach said. "That will define the end of the bond bull market from a classic-chart perspective, not 2.60."
Yields on 10-year Treasuries jumped after the November election of Donald Trump as U.S. president, peaking at 2.5967% on Dec. 15 after hitting an all-time low July 8 at 1.3579%. By late Tuesday they retreated to 2.3757%.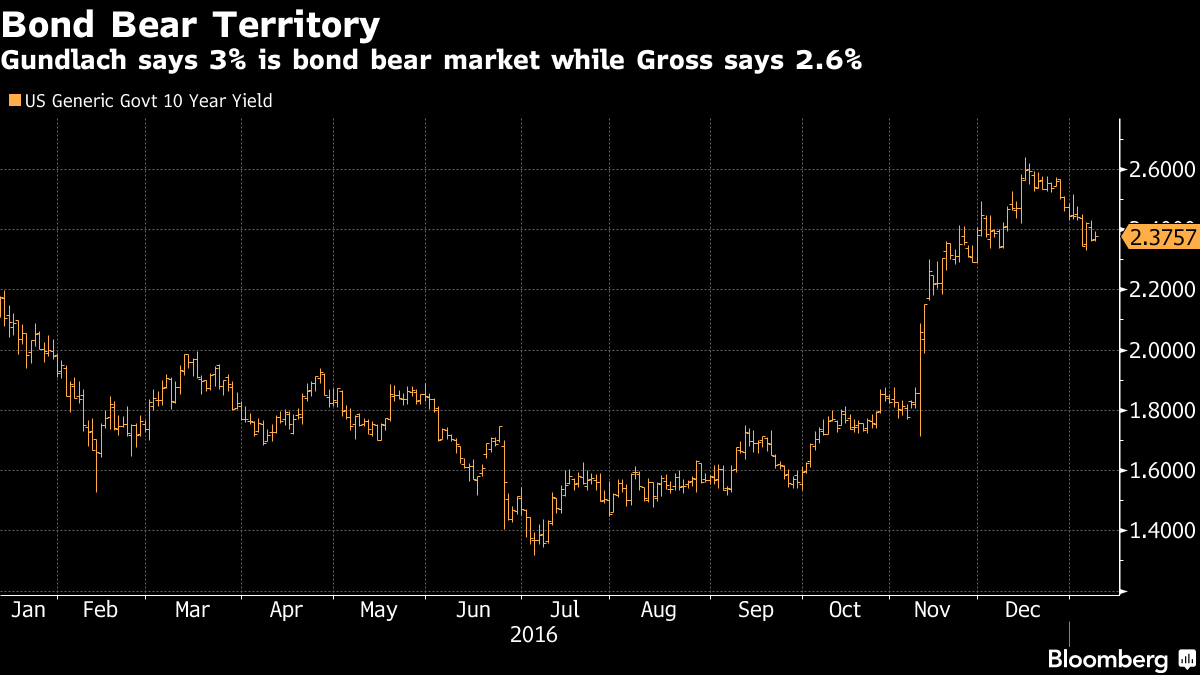 Trump's election and his tax-reform policies have fueled rising confidence among corporate executives, small-business owners and consumers, raising the prospect that economic growth can reach 3%, compared with the steady rate of about 2% in recent years, Gundlach said.
'Animal Spirits'
"Clearly, the animal spirits have been stirred by the election of a businessman and the perceived pro-business administration," he said.
Trump's proposals to raise international trade barriers would be a negative for growth, Gundlach added on a cautionary note.
In other comments, Gundlach said:
Equity investors should consider diversifying internationally,

selling some U.S. stocks to capture recent gains and buying funds pegged to places such as India and Japan

.
10-year yields

may reach 6% by the end of Trump's first term

.
The Federal Reserve will raise rates two or three times this year and "needs to be less relaxed" because

inflation is picking up momentum

.
Oil prices "will vacillate between the mid-$40s and maybe the high-$50s" a barrel. "

We're not looking for big moves in the oil price this year

."
Crux note: Most people have no idea where to even start when it comes to investing in bonds. But there's actually a proven "mathematical sweet spot" for buying them to ensure the highest gains in your portfolio with the least amount of risk.
If you'd like to unlock these secrets without taking a college finance course, be sure to catch a completely FREE live event from three of the most well-respected gurus in finance – Porter Stansberry, Dr. Steve Sjuggerud, and Dr. David Eifrig. It's this Thursday, January 12 at 8 p.m. Eastern time. Learn more and RSVP 100% free right here.