Must-see: The market's next moves may shock you
Editor's note: Yesterday, we showed you why our colleague Jeff Clark was expecting a big short-term rally. The S&P 500 soared 20 points today, so we'd say his prediction is off to a great start. Today, Jeff is back with his thoughts on the intermediate to longer term, including why he thinks 2014 could be a very rough year for most investors… but an incredibly profitable one for some readers…
From Jeff Clark, editor, S&A Short Report:
Stocks are not in a bear market yet. But they're headed in that direction.
The stock market has been forming an important long-term top for the past few months. We know this because market tops are made just about every six to seven years. The last top was in September 2007. So we're in the time frame for another right now.
Also, we're seeing the same sort of warning signs today that we see during every topping process. Specifically, long-term interest rates have spiked sharply higher over the past year. And investors have purchased a record amount of stock on margin.
But until this point, we've been missing poor price action. Despite the classic warning signs of an impending bear market, the S&P 500 continued higher into the end of 2013. It's only after the action of the past week that we can say the bear might finally be waking up…
Regular readers know my gauge for defining bull and bear markets is how the S&P 500 is trading relative to its 20-month exponential moving average (EMA). If the index is trading above the 20-month EMA, stocks are in a bull market. If the index is trading below the line, it's a bear market.
Here's how the S&P 500 looks today…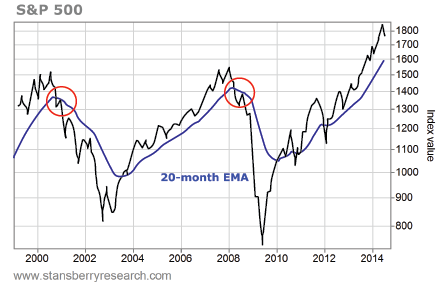 The two red circles on the chart show the previous two times the S&P 500 dipped below its 20-month EMA and entered bear-market territory. (The stock market recovered quickly following the breach of the line in 2011, and a bear market never developed.)
Right now, the S&P 500 is about 190 points above its 20-month EMA. It's also only down about 4% from its 2014 high. So it's way too early to be calling this a bear market.
But it's not too early to trade like it's one. Let me explain…
Contrary to popular belief, traders don't make money in bear markets by shorting stocks aggressively and holding those short positions until the final panic that marks the bottom. There are far too many whipsaws, too many one-day-wonder rallies, too many counter-trend moves. In these conditions, traders usually short stocks aggressively into weakness. Then a strong counter-trend rally blows those positions up, and traders end up taking a loss.
Bear markets are brutal to both the long and short sides of the market.
The way to profit in a bear market is to focus on the short term, take advantage of extreme moves, and take profits quickly.
There will be opportunities to profit on moves in both directions, up and down. In 2008 – during one of the worst bear markets of our generation – my S&A Short Report subscribers had more profitable trades from the long side of the market than from the short side.
Bear markets are filled with emotional moves. Investors panic to get out when it looks like stocks are ready to fall off a cliff. They panic to get in when stocks start to bounce and traders fear they've missed the bottom. All that emotion creates volatility. It creates fast moves where indicators rapidly flip back and forth between oversold and overbought conditions. And it creates lots of trading setups for traders who are looking to anticipate those moves.
I expect 2014 will be a rough year for most investors. But it should be enormously profitable for traders who can adapt to bear-market conditions.
Crux note: Jeff recently sat down for an interview explaining exactly how you could make the biggest and fastest investment gains of your entire life in the coming bear market. Click here to view it now.
More on stocks:
Porter Stansberry: The stock market is going to CRASH
"Dr. Doom" Marc Faber: Sell U.S. stocks and buy these surprising assets immediately
How to protect your money from a stock market crash this year