Warning: Our worst fears about the market are coming true
From Sean Goldsmith in The Stansberry Digest: 
Today's Digest carries a grave warning: Our worst fears about the global monetary system are coming true. The wheels are starting to fall off. A crash could be just around the corner.
Below, we'll show you the specific steps we're taking to prepare… and how you can do the same. But first, we need to explain how and why the global monetary system is coming unglued. We do this by explaining what's going on in the giant global market that you probably know nothing about.
Most investors don't pay any attention to the currency market. But they should.
The currency market is the world's largest, most important market. It's where governments, corporations, and investors execute trillions of dollars' worth of transactions every day. It's where a Japanese carmaker goes to exchange money earned in American dollars to pay expenses in Japanese yen. It's where a U.S.-based hotel chain must exchange euros earned in Germany into dollars that can sit in its U.S. bank account. It's where nations buy and sell currencies by the billions in the normal course of doing business.
The currency market is far, far larger than the stock market. After all, it's the market for money. When there are real problems in the economy, you see them clearly in the currency market.
We realize the currency market isn't as exciting as the next Apple or the next Facebook. It doesn't have the allure of making a killing in a big oil strike. You won't hear your brother-in-law opining on the likely direction of the Australian dollar.
But ignoring this market – and the messages it is sending right now – is a huge mistake that could bankrupt you and your family.
As you're about to see, many of the world's major currencies are plummeting in value right now. They're plummeting in response to insane government policies that constitute the largest monetary experiment in human history. Monetary experts like Jim Rickards say these policies constitute "currency wars." This is where the politicians of major economies actively devalue their currencies in order to make their exports cheaper to the rest of the world… and make it so they can pay off debts with devalued currencies. It's truly a "race to zero."
The result of this experiment will be financial disaster. And you must take steps to protect yourself.
For example… you may have heard the value of the Japanese yen is declining. But do you know why?
A nation's currency is like a rough "stock price" of that nation. Generally speaking, if a country manages its finances well and engages in productive behavior, its currency appreciates over the long term. If a country racks up huge debts and runs its finances like a drug addict, its currency depreciates over the long term.
For example, Zimbabwe and Venezuela are two of the worst-managed economies of the last decade. The leaders of these nations treated the national coffers as a personal piggy bank… While they got rich, their constituents toiled in poverty and suffered hyperinflation. Zimbabwe's currency has lost nearly 75% of its value since 2009 (when its currency was reissued). Venezuela's currency has lost 70% of its value over the past 10 years.
This brings us to Japan. Japan is the world's third-largest economy. It's a leader in automobile and electronics production. But the country announced it officially entered a recession in November… The country's GDP shrank an annualized 7.1% in the second quarter of 2014 from the previous quarter.
This recession hit despite Prime Minister Shinzo Abe's massive quantitative easing (QE) in an effort to stimulate Japan's economy. Beginning in 2012, Abe printed 60 trillion to 70 trillion yen a year (nearly $600 billion). Following the recent recession announcement, Abe said he would up the QE to 80 trillion yen ($676 billion).
Bank of Japan Governor Haruhiko Kuroda said the increased QE "shows our unwavering determination to end deflation." In other words, Japan will print and print and print…
Recklessly expanding a country's monetary base is disastrous for its currency. And Abe's efforts have caused a huge decline in the trade value of the Japanese yen. It's in a clear downtrend.
The yen lost 33% of its value since late 2012, hitting a seven-year low against the dollar. This is an enormous move for a major currency.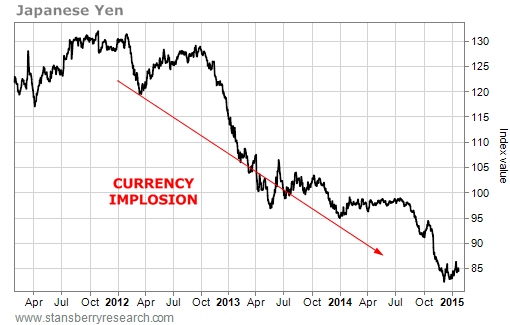 And how about the euro, currency of the world's largest economic bloc, the European Union?
Regular Digest readers know the European economy is struggling. The high-tax welfare states of France, Spain, Portugal, Italy, and Greece are drowning in debt. Their economies are slowing and deflation is taking hold. Unemployment is soaring. And like Japan, this dire outcome follows massive easing from the European Central Bank.
These economies simply can't compete with Asia and North America. Naturally, the central bankers are responding with more stimulus and currency devaluation.
Just last week, European Central Bank President Mario Draghi announced he would flood the European currency union with more than $1 trillion in newly created money. It's a desperate attempt from a desperate group of politicians. Instead of asking citizens to make needed changes in government policy – so-called "austerity" like less welfare – the politicians chose currency devaluation. This sent the euro to an 11-year low against the dollar. It has plummeted 19% since April…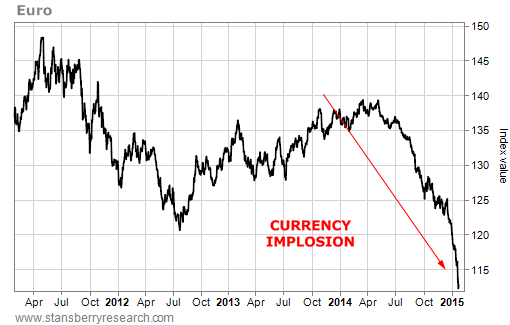 Please keep in mind the enormity of this move. A 19% decline is a stupendous move for a major currency. This isn't a high-flying tech stock. It's not a speculative gold stock. This is the value of bank accounts. This is the value of debts. This is the currency of the world's largest economic bloc. And it's falling apart.
But it's not just happening in Europe and Japan. Almost every major currency (save the U.S. dollar) is getting destroyed.
The plunge in oil prices has killed the Canadian dollar. And Canada's central bank, the Bank of Canada, worsened the decline this month when it cut its benchmark interest rate by 0.25 percentage points to 0.75%.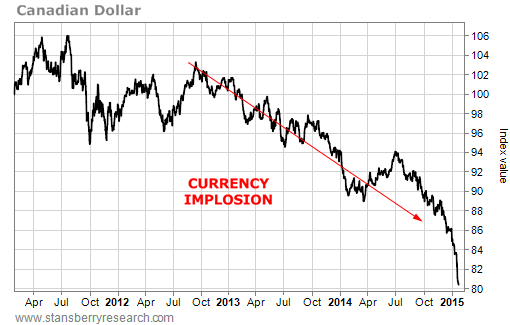 The Australian dollar plunged 17% from its 52-week high on July 1. And investors believe the Reserve Bank of Australia will cut rates to a record low from today's 2.5%.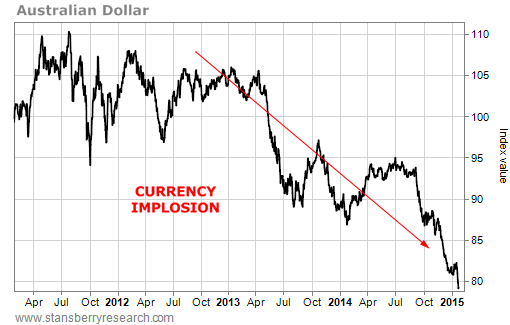 Falling oil prices, a war with Ukraine, and economic sanctions from the U.S. have destroyed the Russian ruble.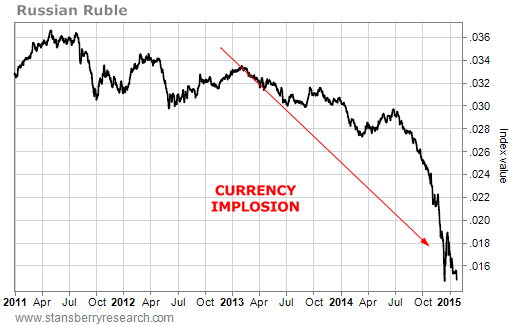 And in one of the wildest currency moves in history, the Swiss franc soared as much as 39% against the euro in one day following the Swiss National Bank's removal of its peg to the euro.
Unlike the rest of the currencies we discussed today, the Swiss franc – a longtime safe-haven asset – appreciated. We're simply noting that the currency of a stodgy, economically sound country like Switzerland should never experience such volatility.
Something is wrong in the currency markets today…
Despite the madness, we are seeing one bright spot: Gold.
Expansion of the global money supply is generally bullish for the precious metal. Still, the price has slumped. But, as we discussed in the January 20 Digest and the January 21 Digest, gold is forming a bottom.
As you can see from the chart below, gold is breaking out…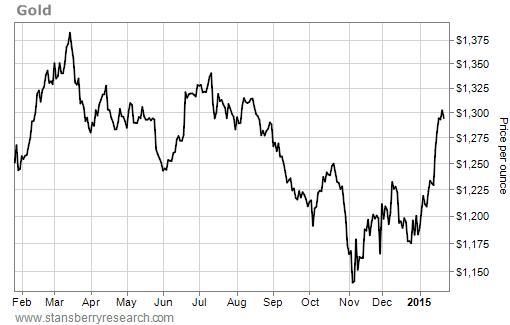 Steve Sjuggerud, Matt Badiali, and Jeff Clark are all urging their subscribers to invest in gold right now.
In short, governments can print more money, but they can't print more gold. And with interest rates across the world at record lows (and in some cases, negative), gold is even more attractive.
Many readers have asked why gold and the U.S. dollar are moving up in lockstep… They believe gold is the "anti-dollar." But that's not the case.
Gold is performing well for two main reasons…
First, gold is a currency. In our opinion, it's the safest currency by a mile because it has no counterparty risk. And again, you can't print more of it. People are starting to realize this and they're diversifying into the precious metal.
Second, gold benefits from the "fear trade." When people get scared of what's happening in the markets, they want the security of owning gold.
As you can see from the charts above, the world is losing faith in fiat money… so people are rushing to safe-haven assets like the world's reserve currency (the dollar) and gold.
We've been warning about this event for years. We knew global central banks couldn't continue to boost their economies via quantitative easing forever. Eventually, those debts come due… Eventually, the world loses faith in manipulated fiat currencies.
But what happens then?
As Porter said last week on an episode of Stansberry Radio, "We are in the early stages of the complete collapse of global capitalism." He thinks stocks could fall by 50% or more.
Regardless of when the market correction comes, you have an incredible opportunity to buy gold today.
The metal is trading for less than $1,300 an ounce, down from its 2011 high of $1,900. We think it could easily hit $2,000 an ounce this year. Jim Rickards, who wrote the book Currency Wars and is an expert on this topic, believes gold will hit $7,000 an ounce one day.
And that's based on the actions already taken by central banks.
But we'll undoubtedly see many more shocks to the system in coming years…
For example, it's possible the euro will disband.
The anti-austerity party Syriza just won the elections in Greece. The party, led by Alexis Tsipras, rallied support by saying Greece would not repay the hundreds of billions of dollars it owes to the "troika" – the Eurpean Central Bank, International Monetary Fund, and European Union (EU).
Upon election, Tsipras softened his language, saying he plans to write Greece's debt down while abandoning the budget constraints that were part of Greece's bailout. He also said Greece will stay in the European currency union.
Given politicians' long history of false statements, we're not putting much weight in Tsipras' claims.
Even if Greece does stay in the euro bloc, we'll see shocks to the system throughout these negotiations. And we'll likely see more and more Europeans join the "anti-austerity" mindset – with more fringe parties winning elections in the EU.
And the global race to zero is still on… Central banks will continue doing what they've always done – printing money. But the consequences are only getting more severe.
So… what actions should you take?
Porter advises everyone to have at least 10% of your net worth in physical gold before you put a penny in the stock market.
If you still need to purchase physical gold, we recommend using two dealers: Van Simmons at David Hall Rare Coins and Rich Checkan at Asset Strategies International.
As we always remind readers, we receive no compensation for recommending their services. You can reach Van at 1-800-759-7575 or by e-mail at van@davidhall.com, and you can reach Rich at 1-800-831-0007 or by e-mail at contactus@assetstrategies.com.
Following that, you should definitely own gold stocks. And when it comes to gold stocks, one man's track record has outperformed the rest… His name is John Doody.
John's proprietary method for investing in gold stocks has returned 636% since 2001 – double the gains of bullion.
And right now, John is imploring his subscribers to purchase gold stocks. (He also put his money where his mouth is and personally invested a fortune in the sector.)
But outside of a small group of investors, not many people know about John's investment strategies.
That's why a self-proclaimed "financial survivalist" recently published the details online…
Giant profit opportunities don't come around often in gold stocks. And when they do, it's important you take advantage… because these stocks soar when the trend moves up.
You can get all the details right here.