Musk challengers turn into billionaires as China battery giant soars
From Bloomberg:
The Chinese founder of the world's biggest maker of electric-vehicle batteries and his top lieutenant became billionaires Monday after their company's shares soared during the first day of trading in Shenzhen.
Contemporary Amperex Technology jumped by the maximum 44 percent allowed by the exchange, valuing the company at about $12.3 billion. That cemented the position of Zeng Yuqun, CATL's founder and top shareholder, on China's rich list with an estimated net worth of about $3.4 billion, according to the Bloomberg Billionaires Index.
Investors are confident that CATL can fend off rivals Panasonic, which makes power packs with Tesla; Warren Buffett-backed BYD Co.; and LG Chem, as the increasing popularity of EVs boosts demand for the batteries that move them. CATL, whose customers include Volkswagen AG, previously cut the size of its IPO by more than half, compared with its original ambitions, because of declining margins and a cap imposed by Chinese authorities on price-earnings ratios in IPOs.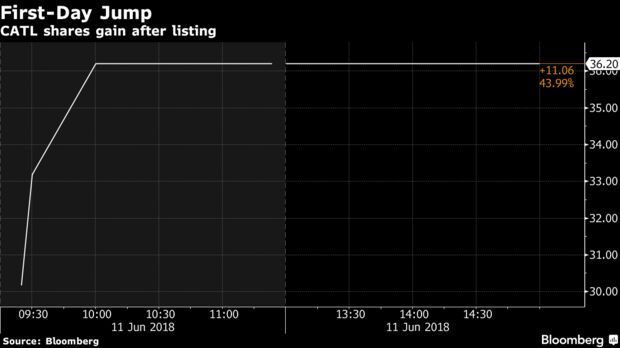 The IPO made CATL the biggest company on China's Nasdaq-style ChiNext list. Zeng, a 50-year-old engineer who started CATL seven years ago, owns a 26% stake. Vice Chairman Huang Shilin holds 12% and has an estimated net worth of $1.7 billion.
× Subscribe to Crux