Master trader Clark: The next major gold rally is starting now
From Jeff Clark in  the Growth Stock Wire:
Gold is going higher.
Gold bulls haven't had much to smile about for the past few weeks. After starting off the year with a 15% rally, gold peaked in mid-March just below $1,400 an ounce. It has been trending lower ever since.
Gold dropped as low as $1,268 an ounce a couple weeks ago. It bounced shortly after. Then it came back down and retested that low point last Friday – in reaction to the better-than-expected jobs report released by the Bureau of Labor Statistics. But then it reversed. Buyers stepped up and rallied gold more than $25 from its intraday low.
Some analysts were quick to point out that gold was oversold going into the report's release. They argue that Friday's action was just an oversold bounce, and the downtrend will resume soon.
I disagree. Friday's reversal is significant. It has kicked off another rally phase for gold. And we're about to see much higher prices for the metal… thanks to the U.S. dollar.
Let me explain…
Longtime Growth Stock Wire readers know many assets – like gold – typically trade opposite of the dollar. So gold falls when the dollar rallies… And gold rallies when the dollar falls.
Now take a look at this long-term, weekly chart of the U.S. Dollar Index…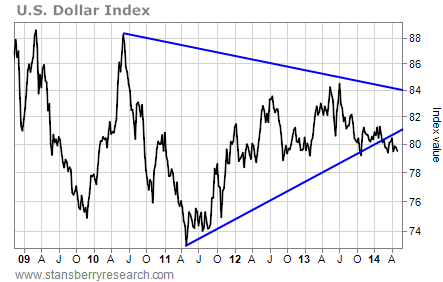 The blue lines show a consolidating triangle pattern that has developed over the past four years. In February, the dollar broke the pattern to the downside. The dollar rallied in March (around the same time gold peaked) and retested the breakdown level. But resistance held and the dollar has been falling ever since.
This is a bearish action and it looks like the dollar could be headed much lower.
Here's another way to look at it…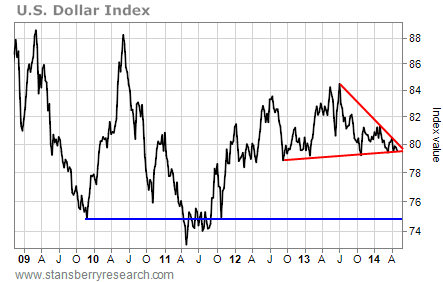 The red lines show a descending triangle pattern, which is bearish. It's formed as an asset tests the same support level multiple times and each bounce off of support is weaker and weaker.
As you can see, the index is testing support again. If it breaks below the 79 level, there's no real support until all the way down at 75. The last time the dollar index was at 75 was back in November 2011. The price of gold was up around $1,700 per ounce then.
If the dollar breaks down – which looks likely based on these charts – it could send the price of gold soaring.
So Friday's reversal in the precious-metals market wasn't just an oversold bounce. It was the start of a new rally phase for gold.
More from Jeff Clark:
Master trader Clark: Don't make this big gold stock mistake right now

Watch for this sign the rally in stocks is over

Master trader Clark: A must-see update on silver