SURPRISING: Marc Faber's top idea for 2016…
From Bloomberg:
Marc Faber recommends Treasuries and says the U.S. is at the start of an economic recession, clashing with Federal Reserve Chair Janet Yellen's view that things are improving.
"Ten-year U.S. Treasuries are quite attractive because of my outlook for a weakening economy," Faber, the publisher of the Gloom, Boom & Doom Report, said in an interview with Bloomberg on Monday. "I believe that we're already entering a recession in the United States" and U.S. stocks will fall in 2016, he said.
Yellen raised interest rates this month for the first time in almost a decade and said Americans should take the decision as a sign of confidence in the U.S. economy. Analysts differ over whether the Fed's decision to increase its benchmark came at the right time because the inflation rate is stuck near zero even as gross domestic product expands.
The benchmark U.S. 10-year note yield rose two basis points, or 0.02 percentage point, to 2.25 percent as of 8:31 a.m. in New York, according to Bloomberg Bond Trader prices. The price of the 2.25 percent security due in November 2025 fell 6/32, or $1.88 per $1,000 face amount, to 99 31/32. Treasuries have returned 1.1 percent in 2015, down from 6.2 percent last year, based on Bloomberg World Bond Indexes.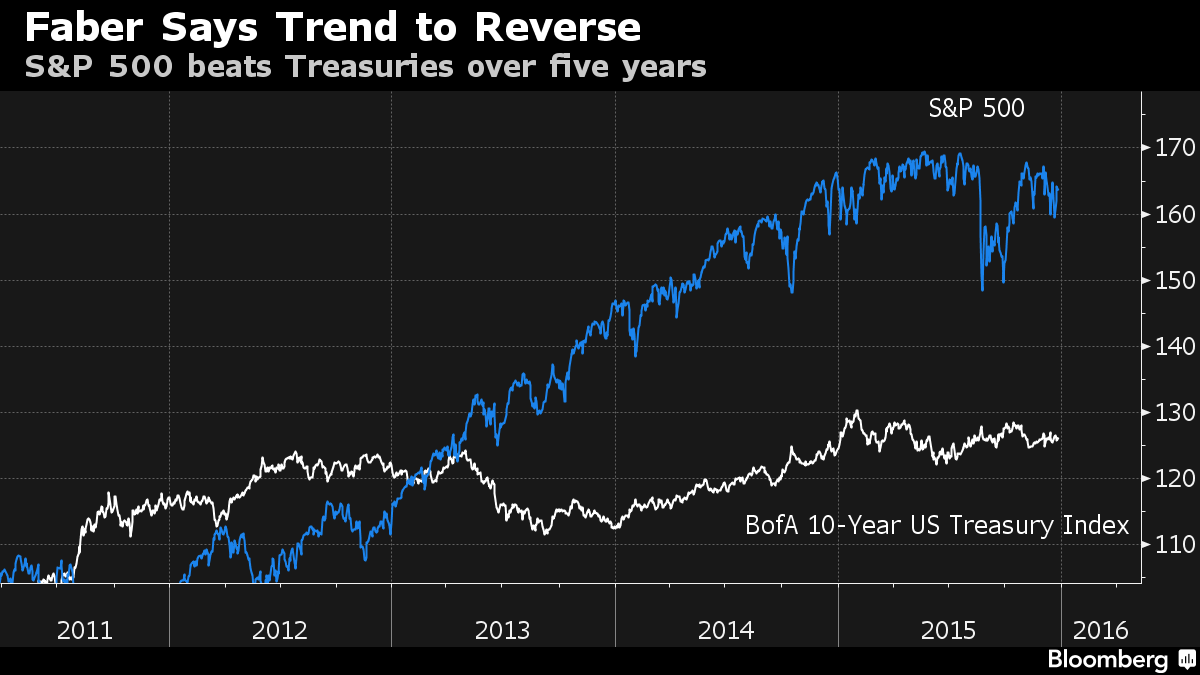 U.S. economic growth slowed to an annualized 2% rate last quarter from 3.9% in the previous three months, the Commerce Department said on December 22. The last time the economy was in a recession was December 2007 until June 2009, according to the National Bureau of Economic Research.
"While things may be uneven across regions of the country and different industrial sectors, we see an economy that is on a path of sustainable improvement," Yellen said Dec. 16 after the Fed increased its benchmark rate by a quarter percentage point.
Former U.S. Treasury Secretary Lawrence Summers and economist Nouriel Roubini had both warned the Fed should be cautious because inflation has yet to pick up as the economy expands.
The central bank's preferred inflation index was at 0.4 percent in November, a government report showed this month. It has been below the Fed's 2% target for more than three years.
Faber's predictions haven't always hit their marks. Since he called long-term U.S. bonds "a suicidal investment" four years ago, the 30-year Treasury has returned 8.7% per year, according to Bank of America Merrill Lynch data. Last year, he touted gold and predicted U.S. stocks would plunge; since then gold has plummeted and stocks have gained.
Faber is also at odds with the consensus view on Treasuries. U.S. 10-year yields will climb to 2.80% by the end of 2016, based on Bloomberg surveys of economists with the most recent forecasts given the heaviest weightings.
× Subscribe to Crux