If you're holding gold and silver stocks, read this warning…
From Ben Morris, Editor, DailyWealth Trader:
"Do more of what's working… and less of what's not."
I often repeat that phrase here in DailyWealth Trader (DWT). I borrowed it from market analyst and trader Dennis Gartman.
The phrase packages decades of market wisdom into a simple, actionable formula.
Think of the old saying, "The trend is your friend." Or maybe you've heard legendary trader Jim Rogers' quote, "Markets often rise higher than you think is possible and fall lower than you can possibly imagine."
How do you put those ideas into practice?
You do more of what's working… and less of what's not.
It sounds simple… But it's not.
Traders often dwell on an idea that they believe in deeply. And no matter how poorly it performs, their confidence never wavers. They keep trading it… and keep losing money.
All the while, lots of other ideas make lots of other people lots of money.
I suspect that lately, folks have fallen into this trap with precious metals – specifically, with gold and silver stocks…
Regular readers know I cover this topic often in DWT. You're interested in precious metals… And so am I. Once in a while, they deliver sensational returns.
But lately, they've performed poorly…
The popular gold-stock fund (GDX) is up 4% over the past year… And the popular silver-stock fund (SIL) is down more than 15% over that same span.
Meanwhile, the U.S. benchmark S&P 500 Index is up 18%. The fund of global, non-U.S. stocks (VEU) is up 24%. And the big tech-stock fund (XLK) is up 35%.
If seeing those numbers makes you uncomfortable, you need to keep reading…
One of the ways we like to gauge the strength of the precious metals sector is by looking at ratio charts. When we divide one asset's price by another's, we get a ratio of their prices. And when we plot that ratio on a chart, we can sometimes find "hidden" relationships and trends in the market.
The first chart we'll look at is the gold stocks to gold ratio. When the price of gold rises and falls, shares of gold producers (like the ones in GDX) tend to rise and fall with it. But they don't usually move in the same amounts.
In the chart below, when the line rises, gold stocks are outperforming gold. When the line falls, gold stocks are underperforming gold. As you can see, the ratio recently broke below its trend line…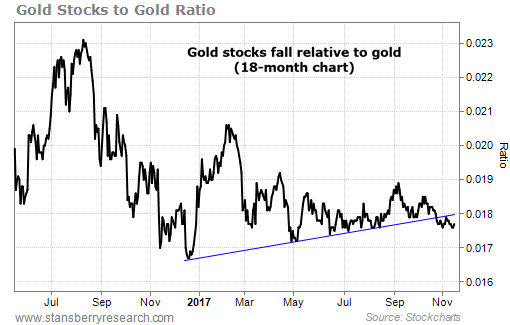 One reason for this breakdown is that the price of gold has held up well. It's up a little more than GDX over the past year.
The simple fact that both gold and gold stocks are up over the past year shows that things aren't too bad. But in healthy precious metals markets, gold stocks outperform gold. And that's not happening.
Next, we'll look at the silver stocks to silver ratio. It works the same way as the chart above. When the line rises, silver stocks are outperforming silver. When the line falls, silver stocks are underperforming silver.
As you can see, silver stocks have dramatically underperformed silver over the past two months. The ratio just hit an 18-month low…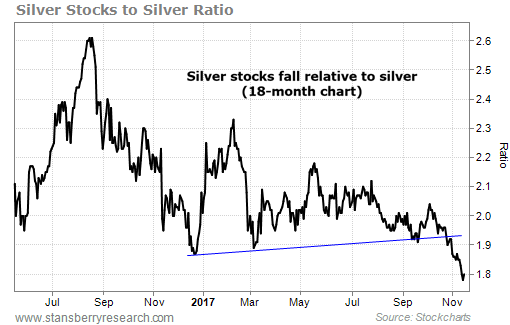 We don't hold any silver miners in DWT… And persistent weakness in this ratio is one of the top reasons why. I suggest you continue to heed this warning and avoid most, if not all, silver stocks.
Now, as negative as all this may sound, I'm not saying you should ignore what's happening with gold and silver stocks. These charts only show short-term conditions… conditions that could change in a month or two.
We hold gold stocks in DWT. And over the long term, I'm still bullish on the sector. So I'll likely continue to write about it at least once a month to keep you updated.
But if you've been laser focused on precious metals stocks, you've likely been missing out on amazing gains in other areas.
Remember, if you want to do well in the markets, you need to do more of what's working… and less of what's not.
Right now, gold and silver stocks are not "working." They should not be your primary focus.
Stocks around the world are in a massive bull market… Make sure you take advantage.
Good trading,
Ben Morris
Crux note:  Right now, Ben has three high-upside gold stocks on the DailyWealth Trader watch list. Sign up for a risk-free trial to DWT to find out exactly when to pull the trigger. Get the details right here.