How to profit from the Olympics
From Jeff Clark, Editor, Stansberry Short Report:
By this time next week, all eyes will be focused on Brazil and the start of the Olympics.
If history is any sort of a guide, that should just about mark the peak of Brazil's stock market.
The Brazilian Bovespa Stock Index ("BVSP") has enjoyed a rip-roaring rally this year. The index is up 50% in the past six months – making it one of the top-performing markets of the year so far.
But we've seen this sort of move before in Brazil just as it stepped on to the world's stage. And it ended badly for investors…
The last time I recommended shorting the BVSP – the only time I've made that recommendation – occurred in June 2014 as Brazil hosted the FIFA World Cup.
The BVSP had rallied 20% in just three months heading into the start of the World Cup. The index was trading at an all-time high. Sentiment was wildly bullish. And there was negative divergence developing on the chart of the BVSP.
It was a terrific setup for a short sale. And it worked out just as I expected.
The BVSP peaked shortly after the World Cup ended. It dropped 20% over the next six months. And by the time it hit bottom this past January, the index had lost nearly 40% from its high.
We have a similar setup right now.
Money has been flooding into Brazil's stock market ahead of the Olympic Games. The BVSP is once again approaching its all-time high. Sentiment is wildly bullish. And the chart is starting to turn bearish.
Take a look at this chart of the iShares MSCI Brazil Capped Fund (EWZ) – an exchange-traded fund of Brazilian stocks…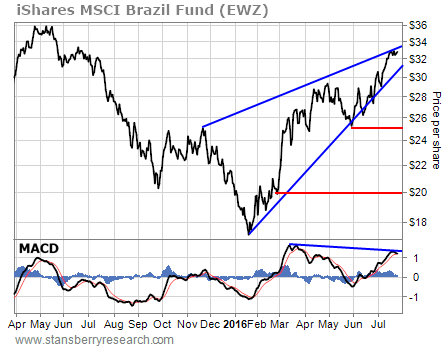 This chart has formed a bearish rising-wedge pattern with negative divergence on the moving average convergence divergence (MACD) momentum indicator. This sort of pattern usually breaks to the downside. If EWZ breaks down from here, the first target is down around $25 per share. That's a 23% decline from Tuesday's close price.
A strong drop could push EWZ all the way down to $20 per share. That's almost 40% below where the fund closed Tuesday.
There's still room inside the wedge for EWZ to work a bit higher before it reaches the peak of the pattern. But make no mistake… this is a dangerous-looking chart.
Traders who are looking for a way to profit off of this summer's Olympics should consider shorting Brazil's stock market today.
Best regards and good trading,
Jeff Clark