One of the best forms of portfolio insurance is at its cheapest level in decades
From Justin Brill, Editor, Stansberry Digest:
Another day, another round of new all-time highs…
All three major U.S. stock market indexes – the Dow Jones Industrial Average, the S&P 500, and the Nasdaq Composite Index – closed at fresh all-time highs on Wednesday. But they weren't alone…
The small-cap Russell 2000 Index closed at a new record high, too.
And even tech stocks – which had been leading the market lower – are moving higher again. As you can see in the following chart, blue-chip tech stocks just broke above their dot-com bubble highs for the first time…
It's not just the U.S., either…
European and Asian markets are soaring, too. In fact, global stock markets are now on pace to do something that has never been done before. As the Wall Street Journal reported yesterday (emphasis added)…
Stock markets go up and down: It is a fact of life. Except in 2017.
Three major stock-market benchmarks in the U.S., Europe and Asia have avoided pullbacks this year, commonly defined as 5% declines from recent highs. Never in at least the past 30 years have all three indexes – the S&P 500, MSCI Europe and MSCI Asia-Pacific ex-Japan – gone a calendar year without falling at some point by at least 5%.
In good years and bad, markets tend to fluctuate wildly, with stock indexes often falling by double-digit percentages before bouncing back. That hasn't been the case this year, another reflection of the historically low volatility that has gripped the world. The CBOE Volatility Index, or VIX, finished Friday at its lowest since 1993.
In short, more and more evidence suggests the global "Melt Up" is here… just as our colleague Steve Sjuggerud has predicted. And if Steve is correct, the most explosive gains are still ahead.
Stay long… This bull market likely isn't over yet.
Of course, that doesn't mean we won't see a correction along the way…
In fact, history suggests we almost certainly will…
The S&P 500 has avoided a decline of at least 5% only five times in the past 60 years, according to financial-services firm LPL Financial.
Likewise, over the past 40 years, the S&P has experienced a peak-to-trough decline of 14% on average every single year. This year, the largest we've seen is 2.8%.
A correction would not be unexpected here.
But you probably aren't aware of the other benefit to this record-breaking rally…
Right now, you have a rare opportunity to profit from the Melt Up with much less risk… while also protecting your portfolio from the inevitable "Melt Down" that is sure to follow.
You see, one particular form of "portfolio insurance" is dirt-cheap today. As our colleague Ben Morris explained to his DailyWealth Trader subscribers Thursday morning…
This wealth-protection strategy is buying long-dated puts. The idea is simple…
When you buy a put, you buy the right – but not the obligation – to sell a stock at a fixed price for a set period of time.
If you own the stock, this puts a price floor under your shares because you have the right to sell the stock at a fixed price. Some money managers use this form of insurance… But it's not the one I'm talking about today.
If you don't own the stock, buying a put serves as a bet that the stock will fall…
Ben shared an example using consumer-electronics giant Apple (AAPL) to illustrate how this works…
Let's say you believe that Apple will burn through its $257 billion in cash, competition will drive the company into the ground, and it will go bankrupt within the next year and a half.
You ignore the critics and buy the Apple January 2019 $100 puts for $2.20.
To the great surprise of everyone (but you), Apple goes bankrupt and shares drop to $0. The puts you bought for $2.20 per share are now worth $100 per share. A $220 bet turns into $10,000. A $660 bet turns into $30,000. It's a 4,445% return.
In a bear market, that one small bet goes a long way toward helping you preserve or increase your wealth.
Now, this was just a simple example. As Ben noted, Apple is probably the least likely company in to the world to go bankrupt today.
But buying puts on companies with less favorable outlooks can be an incredible way to "hedge" your portfolio. If even a few of them work out, you could make unbelievable returns.
And again, this strategy is particularly valuable now because put options have rarely been as inexpensive as they are today. And this is because the Volatility Index ("VIX") has rarely been so low. More from Ben…
We've studied the VIX before. Traders often call it the market's "fear gauge" because it rises when folks are worried about stock prices dropping, and it falls when they're not. The VIX works by measuring prices that people are willing to pay for options.
As we just covered, people buy put options when they're worried about a crash. Put prices rise with demand… and the VIX rises.
But right now, as you can see in the chart below, the VIX is near its lowest level ever. (It hit its third-lowest level in history, 9.51, on Friday.)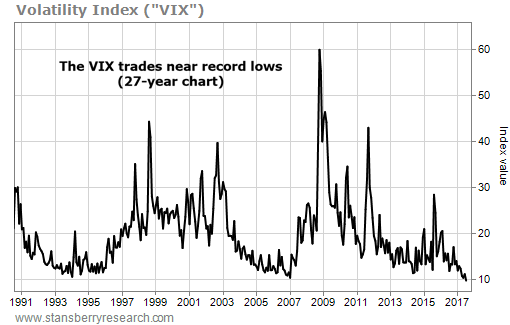 We used monthly data rather than daily data for this chart, so the line would be clearer. But the VIX dropped below 10 in early 2007, not long before the market topped out. And the VIX peaked at 80.86 in late 2008, just before the market bottomed.
In other words, people are often willing to pay the most for portfolio insurance when they least need it… And they're often not willing to pay low prices when they need it most.
As you can see in the chart above, put options are as cheap as they've been in decades… meaning you can dramatically reduce your risk while spending very little money.
We've heard from several folks who are worried about staying in stocks today… This strategy is the answer.
If you're looking to put this strategy to work for yourself, look no further than Stansberry's Big Trade.
This service is dedicated to finding the weakest, most heavily indebted companies that are most likely to fail in the next few years. Even if the market soars, these stocks are likely to struggle. And when the bull market finally ends, these stocks could crash and ultimately disappear… earning Big Trade subscribers five to 10 times their money or more as they do.
Porter has prepared a short presentation explaining this strategy in detail. Click here to learn more now.