Heads up… This unexpected market could soar 500% from here
From Jeff Clark, editor, S&A Short Report:
In March, I told you it was almost time to buy Chinese stocks.
Chinese stocks were one of the best-looking trade setups in the world… but from a technical perspective, China still needed a little more work.
The Shanghai Stock Exchange Composite Index (the "SSEC") – China's version of the Dow Jones Industrial Average – was stuck in a falling-channel pattern (a series of lower highs and lower lows). In order to break out of this pattern and establish a new bull market, I said the SSEC needed to rally above February's high of 2,150.
I suggested traders look to buy Chinese stocks once the SSEC broke above the 2,150 level.
Instead of breaking out, though, the SSEC ran into resistance and pulled back. It's now testing its support line.
But I'm still buying China right now. Let me explain…
The last time the Chinese stock market looked the way it does today, Chinese stocks rallied 500% in a year and a half.
For the past six years, the SSEC has been stuck in a brutal bear market. The index peaked above 6,000 in November 2007. Today, it trades at just over 2,000. That's a loss of 67%. And it's the main reason folks roll their eyes at me when I mention the idea of buying stocks in China.
Remember, though… all markets eventually turn. Bull markets turn into bears, and bears become bulls. After six bearish years, there are now bullish signs coming from China.
First off… Chinese stocks are super-cheap. The average Chinese blue-chip stock trades at about eight times earnings, about 1.1 times book value, and pays a dividend of about 2.5%. Compare that with the average stock in the S&P 500, which trades at 17 times earnings, 2.2 times book, and offers a yield of 1.8%.
China's stock market would basically have to double from here just to catch up to the valuations of U.S. stocks.
Next… consider investor sentiment – which is best used as a contrary indicator. Public sentiment toward China is pitiful. Mention Chinese stocks at a cocktail party, and you'll find yourself standing in a corner all alone.
My friend and colleague, Steve Sjuggerud – who writes the True Wealth and True Wealth Systems newsletters for Stansberry & Associates – talked about buying Chinese stocks at a seminar I attended last month. The audience groaned. It seems the public just isn't ready for this idea.
But the professionals are buying it.
Last month, Goldman Sachs, JPMorgan, and Morgan Stanley all published institutional-research reports praising the opportunities in China. The CEO of financial-services company Blackstone Group, Stephen Schwarzman, was on CNBC on Monday talking about China's bullish potential.
So while the public is staying away from China, the "smart money" is moving in.
Finally, there's the technical picture. Take a look at this long-term chart of the SSEC…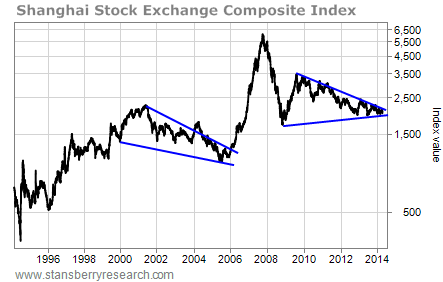 China's previous bear market lasted five years. It ran from 2001 until 2006, and it hacked 60% off the value of the SSEC. But look at the explosive gains that happened once the bull market kicked off in 2006. The index rallied 500% in 18 months.
Today's bear market has lasted six years. It has hacked away 67% of the value from the peak in late 2007.
The chart now shows a long-term consolidating-triangle pattern. And we're approaching the apex of the triangle. So the pattern is ready to break – one way or another – sometime soon.
Given the ultra-cheap values, the dismal investor sentiment, and the bullish potential catalysts, I'm willing to bet the chart breaks out to the upside.
Still… I'd like to see the SSEC rally above 2,150 and breakout to the upside before getting super aggressive with Chinese stocks. But right now is a good time to start adding some Chinese stock exposure to your portfolio.
More from Jeff Clark:
Master trader Clark: Don't make this big gold stock mistake right now

Watch for this sign the rally in stocks is over

Master trader Clark: A must-see update on silver