Forget gold and silver… This rare metal could be starting a MAJOR breakout
From Jeff Clark, editor, S&A Short Report:
Gold and silver are getting all the headlines right now.
After a miserable 2013, both precious metals are enjoying big gains this year. Gold is up over 12% in just a little over two months. Silver is up over 10%.
But there's another precious metal that has been quietly rallying this year. It's up about 10% since late December. And it looks like it will soon steal the headlines from gold and silver…
Platinum could be the big winner in the precious-metals market this year.
The metal is 30 times rarer than gold. Most of the world's supply of platinum comes from the Bushveld geological structure in South Africa – where most of the "easy to get" metal has already been extracted. There's still plenty of platinum in the structure, but getting it out of the ground is growing more and more expensive. This will keep pressure on the available supply.
Meanwhile, demand for platinum is increasing. Not only does it represent a store of value as a precious metal, but it also has industrial applications for use in electronics, automobiles, dentistry, and jewelry. So the supply/demand equation is shifting in favor of higher platinum prices.
And any investor who thinks gold is cheap at the current price has to like the idea of buying platinum here. For most of the past two decades, platinum traded for an average 70% premium to the price of gold. Today, that premium is just 10%.
Finally, platinum looks ready to stage a major breakout. Take a look at this chart…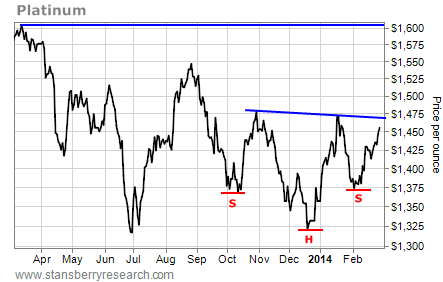 The chart has developed an inverse "head and shoulders" formation. This is a bullish pattern that often signals the reversal from a bearish trend to a bullish one. If platinum can break above the "neckline" of the pattern at about $1,470 per ounce, the projected target is up around $1,600 per ounce.
Traders interested in taking a position in platinum can buy the metal itself, or they can buy a platinum fund like the UBS Long Platinum Fund (PTM) or the Sprott Physical Platinum and Palladium Trust (SPPP).
More on precious metals:
This is the gold "secret" the Chinese do not want us to know

URGENT: A master trader's update on gold stocks

Silver EXTREME: It's time to take a low-risk, high-reward trade in the most explosive precious metal