Expect the unexpected in 2017
From Justin Brill, Editor, Stansberry Digest:

The new year is here…
We hope you and your families enjoyed the holidays… And we wish you the best in the coming year.
As for the markets, all we can say is 2017 promises to be interesting…
The 35-year bull market in bonds is teetering… Inflation is stirring around the globe for the first time in years… and President-elect Trump is pushing for the most sweeping economic and regulatory changes in a generation.
In short, some of the most important trends of the past several years – falling interest rates, deflation, and a heavy-handed government – could be reversing… and the coming year could look far different than many expect.
In the meantime, the first trading day of 2017 began much as 2016 ended…
The year-end "Trump Trade" – defined by rising stock prices, falling bond prices, and a stronger U.S. dollar – continued this morning.
All the major U.S. stock indexes opened higher. U.S. Treasury bonds opened lower. And the U.S. dollar hit a fresh 14-year high…
We continue to expect at least a short-term reversal in these trends
. They're getting extremely stretched, and several measures of investor sentiment have reached levels that often precede a reversal.
Investors are growing incredibly bullish on stocks and the dollar, and incredibly bearish on bonds.
One trend that may have already reversed is in precious metals…
Like Treasurys, gold and silver are oversold. And folks who were enamored with gold and silver last summer are throwing in the towel. In fact, while gold, silver, and mining stocks remain well above last year's bear market lows, some measures of investor sentiment are even more bearish today than they were back then.
Yet both gold and silver quietly bottomed in mid-December and have been moving higher since.
Of course, this may not be "the bottom" in the recent correction… So keep an eye on your stops, particularly in more speculative vehicles. But we continue to believe a significant bottom is near, and precious metals could trade sharply higher in coming months.
Longtime Digest readers know Steve Sjuggerud has been extremely bullish on U.S. housing for more than six years now…
And he has been exactly right. Home prices are up significantly since 2011… And they've absolutely soared in some areas.
Given this trend, you might think it's too late to profit.
Not so, says Steve. In fact, he says housing is one of his top recommendations for the coming year.
Despite rising prices, Steve says housing in many areas (including his home state of Florida) is still incredibly cheap. But it may not stay that way much longer… So he's urging interested readers to take advantage of this opportunity as soon as possible. As he wrote in yesterday's DailyWealth e-letter…
Get to Florida and buy a house. Now. I'm not kidding. If you wait any longer, you might miss this opportunity. And believe me, you don't want to miss it. I've personally been buying real estate for years… But the opportunity isn't over. Not even close…
The median home value in Orlando, Florida is around $161,000, according to Zillow.com. And the median home value in Jacksonville, Florida is $144,000. I can't tell you that the median home in either of these places is the right home for you, but my point is that Florida real estate is still CHEAP.
Meanwhile, as Steve explained, the supply of new homes in Florida has barely recovered since the housing crisis 10 years ago…
Homebuilding in Florida has been incredibly slow for a very long time now. Take a look…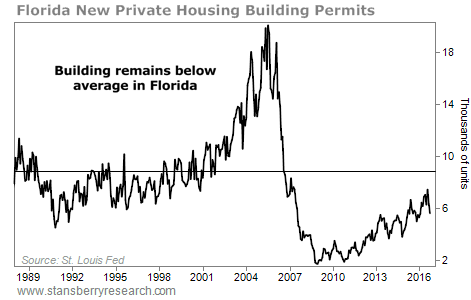 One of the most basic rules of economics is that prices rise when there's a lot of demand and not enough supply. So without enough supply, house prices should rise.
In addition, Steve noted that mortgage rates remain near historic lows, and the incoming Trump administration is likely to be incredibly friendly to real estate owners and investors.
In short, Steve says we still have a perfect setup in U.S. housing…
And he is urging investors to make owning real estate a top priority in 2017.
But housing is just one of six major opportunities Steve has identified for the coming year. In the January issue of his True Wealth advisory, he laid out his full "2017 blueprint," explaining exactly how to profit from each of them.
Again, we can't share Steve's specific investment recommendations here today. It simply wouldn't be fair to his subscribers. But you can get instant access to Steve's full 2017 blueprint with a 100% risk-free trial to True Wealth.
True Wealth normally sells for just $199 a year. That's well within the budget of any serious investor. But because Steve wants to encourage as many folks as possible to read this research, he has agreed to temporarily slash the cost in half.
Right now, you can try Steve's True Wealth advisory for just $99. That's less than $2 per week. We'll even give you a full 30 days to review Steve's work and decide if it's right for you. If you're not completely happy, simply let us know and we'll issue a full refund for every penny. Click here for all the details.
Regards,
Justin Brill