Critical signs this bull market is getting tired. Aggressive traders should do this now.
From Jeff Clark, editor, S&A Short Report:
The stock market has had a great run this month. But it looks like the rally has just about run its course.
Many technical indicators are showing negative divergence right now. In other words, as the S&P 500 has been making higher highs on the chart, the momentum indicators have been making lower highs. That's "negative divergence," and it's a strong warning sign that the rally is nearing an end.
So now is not the time to bet aggressively that stocks are going to keep pushing higher. But it's probably a good time to make a bet on the short side of the market.
Here's a 60-minute chart of the S&P 500 as of Tuesday's close, plotted along with three momentum indicators…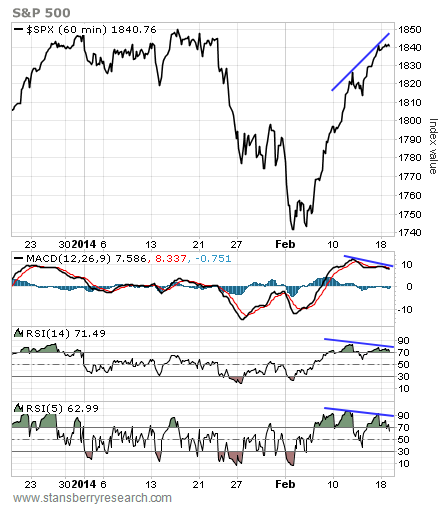 For the past week, the S&P 500 has been rallying and making higher highs on the chart. But the MACD momentum indicator and the five- and 14-day relative strength indexes (RSIs) have all been making lower highs.
Of course, negative divergence doesn't play out 100% of the time. In powerful markets, stocks can continue higher – negating the divergences. But in an environment that is as extended and overbought as we have right now, negative divergence is a BIG warning sign. And it's one aggressive traders can often profit from.
Adding to this potentially bearish view is the following chart of the Volatility Index (the "VIX")…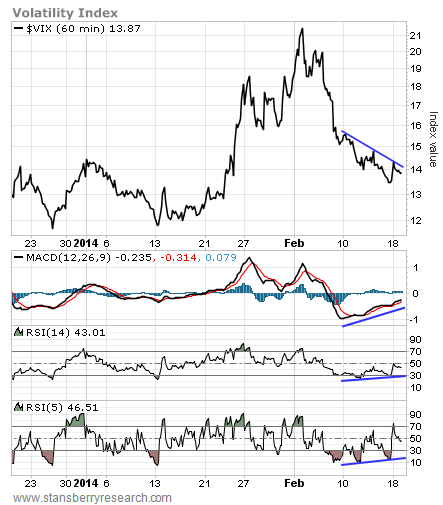 The VIX is the market's "fear gauge." When stocks are falling and investors are fearful, the VIX rallies. When stocks are rallying and investors are complacent, the VIX falls.
The VIX has been falling all month – which is consistent with a rallying stock market. But notice how the momentum indicators have been rising lately. This "positive divergence" is an early warning sign that the trend in the VIX is ready to reverse. And a rising VIX usually goes along with a falling stock market.
So instead of betting on the stock market hitting new highs, it's time to be cautious. And aggressive traders might want to think about getting in on the short side of the market.
Crux note: Jeff believes we're headed for something more serious than a normal correction in stocks. In fact, he thinks this message is so important, he recently sat down for a short video interview explaining exactly what he's seeing today. We guarantee you'll be surprised by what he had to say. Click here to watch it now.
More on stocks:
Top trader Clark: Where the stock market is headed now

Porter Stansberry: Why I'm sure the stock market will plunge this year

How to protect your money from a stock market crash this year