Bitcoin surges past $7,000 to extend record rally
From Bloomberg:
Bitcoin surged past $7,000 for the first time, breaching another milestone less than one month after it tore through the $5,000 mark.
The digital currency got new impetus this week after CME Group Inc., the world's largest exchange owner, said it plans to introduce bitcoin futures by the end of the year, citing pent-up demand from clients. Skeptics including Themis Trading say the rally is evidence that the software-created asset is a bubble that should not be given regulatory cover.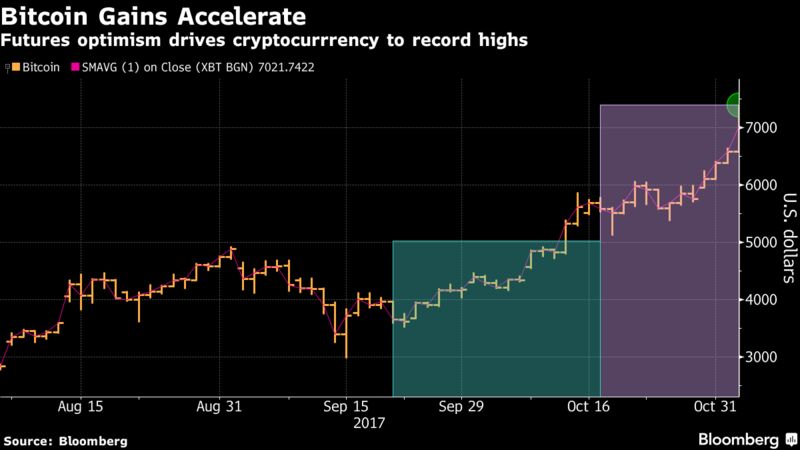 Spot pricing for bitcoin climbed as much as 12 percent to a record $7,392 before pulling back slightly to $7,025 at 8:53 a.m. in New York. The cryptocurrency is up almost sevenfold this year and is now worth more than $100 billion.
"It is simply remarkable how resilient bitcoin has been in the face of significant negativity," said Lukman Otunuga, a research analyst at ForexTime, in a Nov. 1 note to clients. "The price action suggests that bulls have a very firm grip."
In a blog post this week, Themis warned CME is "caving in" to pressure from clients and placing a seal of approval around a "very risky, unregulated instrument that has a history of fraud and manipulation." The products planned by CME "remind us of the collateralized debt obligations which were peddled during the financial crisis," the post said.
Asked whether he's concerned about a potential bubble, CME Chief Executive Officer Terry Duffy said on Bloomberg TV on Nov. 1 that the firm's job is to "manage risk, not decide what the price of a product is."
---
Crux note: If you've ever wanted to learn about these new assets but didn't know where to start, we urge you to check out our friend and colleague Tama Churchouse's new advisory, Crypto Capital.
Tama has worked for major investment banks (most recently JPMorgan Chase) for nearly a decade. He understands currency markets from the inside out. And he's been pounding the table on bitcoin for anyone who will listen.
Unfortunately, it's too late to lock in your introductory discount to his new service. But it's not too late to take advantage of Tama's 100% risk-free guarantee to try it for yourself. If you're interested, don't wait… Tama is closing this special introductory offer on Tuesday at midnight.