A new bull market could be starting in these commodities
From Jeff Clark, Editor, Stansberry Short Report:
The bull market in stocks is over.
But a new bull market might be getting started in another sector.
Let me explain…
Agricultural commodities – or "ags," as traders like to call them – have been beaten up over the past four years. The price of wheat, for example, is down 50% since it peaked in 2012. Corn is down 60%.
But the recent action in these ags has been positive. And the charts are setting up for a new rally phase.
Take a look at this chart of the Teucrium Corn Fund (CORN), an exchange-traded fund ("ETF") designed to track the price of corn…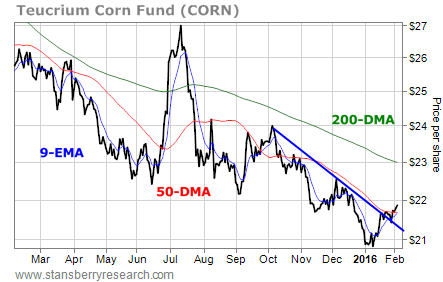 As you can see, CORN broke above its downtrending resistance line last month and is now trading around $21.75. That is higher than its nine-day exponential moving average (EMA) and its 50-day moving average (DMA). And its nine-day EMA is about to complete a bullish cross above the 50-DMA.
This is the first really bullish action we've seen in corn prices since last June – just before they surged 15% higher in two weeks. CORN looks to be set for a run up to at least its 200-DMA at $23.
The chart of wheat prices looks similar…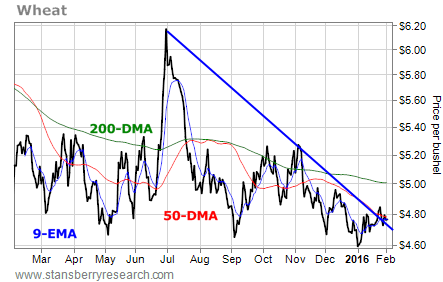 Like CORN, wheat recently broke above its downtrending resistance line. And its nine-day EMA is poised to cross above its 50-DMA. The 200-DMA, at $5, looks like a reasonable target for a short-term move. Wheat is currently trading at $4.76.
At the very least, ags are set up for a decent short-term rally. And as traders pull money out of the falling stock market, they're going to be looking for a new home for that money in a sector that's moving higher, like agricultural commodities are today.
Traders looking to profit on this emerging trend today can look into agriculture-related ETFs, like CORN and the Teucrium Wheat Fund (WEAT), which tracks the price of wheat.
Best regards and good trading,
Jeff Clark