A hidden FANG trade is rising thanks to these exotic bonds
From Bloomberg:
For those fretting the end of days for tech stocks on the heels of Netflix Inc.'s recent plunge, Wall Street might have just the product for you.
Meet FANG, in structured-note form.
Holders of these securities — complex bonds tied to the performance of Facebook Inc., Amazon.com Inc., Netflix and Google parent Alphabet Inc. — typically forgo the prospect of stratospheric upside. In return, they can weather as much as a halving in the cohort's equity value, and along the way may accrue double-digit coupons and eventually their principal.
The popularity of these products is mounting. Investment banks have sold nearly $60 million of FANG-linked notes this year, up from $45 million over the same period in 2017, according to data compiled by Bloomberg, many of which are structured with such downside protection.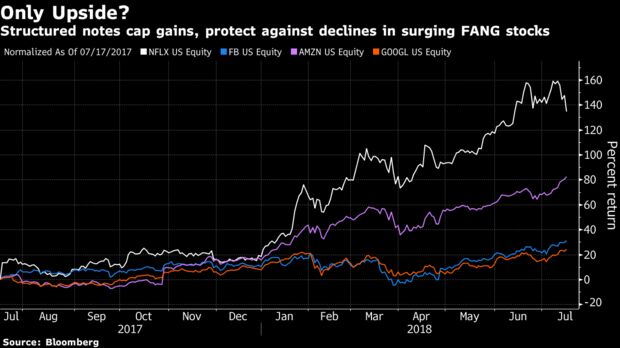 As tech leaders report earnings in the coming weeks in a long-lived bull market, the products' protective buffer may yield more appeal for retail investors seeking FANG exposure with a twist.
"It's a bit late in the cycle, especially for these stocks," said Guillaume Chatain, chief executive of structured-note platform ResonanceX and a former JPMorgan Chase & Co. banker. "Maybe you feel like you want to have some exposure but don't feel like they're going to be up 80 to 100 percent again. What you hope for is that all the stocks remain together and continue to move in sync."
× Subscribe to Crux