CHART: A big test for gold
From Justin Brill, Editor, Stansberry Digest:
What's up with gold?
Regular readers know our colleague Ben Morris has been watching gold closely for months.
And in late August, he finally got the confirmation he was looking for…
The precious metal finally broke out of a massive, decade-long "wedge" pattern. This was an extremely bullish sign, and Ben told his DailyWealth Trader subscribers it was finally time to trade gold from the long side.
Gold moved higher almost immediately. It jumped nearly 3% over the next eight trading days. But the rally didn't last long…
Gold has been slowly moving lower ever since, and is now down nearly 6% over past month. And many gold bulls are starting to get worried.
If you're among them, Ben has some good news. He says gold's recent weakness is normal and natural. In fact, if you missed the big breakout in August, he believes this could be a great second chance to buy. As he explained to his DailyWealth Trader subscribers on Monday…
To see the opportunity in gold, you'll need to understand two of the simplest – and most important – concepts in chart-reading…
"Support" is a level at which folks tend to buy an asset and prices often stop falling. "Resistance" is a level at which folks tend to sell and prices often stop rising.
On a chart, we can draw support and resistance levels as lines. They can be perfectly horizontal… They can be diagonal… And they can even curve. (For example, the 200-day moving average can serve as support or resistance.)
When an asset breaks down through support, the support line becomes resistance… And the asset will likely continue lower. When an asset breaks out above resistance, the resistance line turns into support… And the asset will likely continue higher.
One important caveat…
After an asset breaks through its support or resistance, it will often temporarily reverse course and "test" its breakout point before reversing again and starting a bigger move. And that's exactly what gold is doing now. More from Ben…
With this in mind, let's look at gold's former resistance line, which – because gold broke through it – now serves as support. As you can see, gold closed right at support on Friday…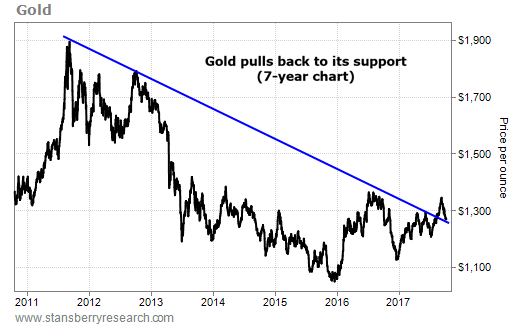 Support and resistance lines are rarely perfect. We have a little flexibility in how we draw them… And assets often overshoot a little bit.
But gold clearly broke out of its downtrend in late August. And now, it is testing its breakout point. Again, this action is normal.
Ben shared a recent example of another DailyWealth Trader recommendation to illustrate how this scenario often plays out…
In early May, we bought Chinese Internet giant Baidu (BIDU) after it broke out of a multiyear wedge. It, too, climbed higher… then pulled back to its breakout point.
In the chart below, you can see what happened next…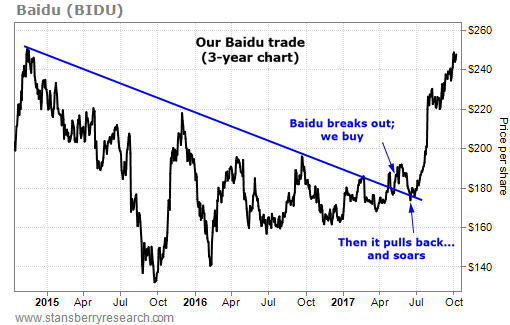 We were down on the position for a week or so. But Baidu ripped higher right after retesting its breakout point. We're now up 40%.
As we often say, the market is unpredictable…
We can't assume gold will follow a similar path. But this chart says the bullish case for gold remains intact… and traders have a low-risk opportunity to buy today. More from Ben…
A 10%-20% move higher from here is possible. And even a 10% move would put gold at a four-year high… just above the psychologically important level of $1,400 per ounce. If that happens, other gold-related assets like gold stocks and silver will likely soar as well.
In sum, gold has been weak over the past month. But after its recent move higher, that's to be expected. It's now testing its breakout point… And if support holds, a big move higher is likely in the cards.
Learn how Ben is trading it with a risk-free trial subscription to his excellent DailyWealth Trader advisory.
Regards,
Justin Brill